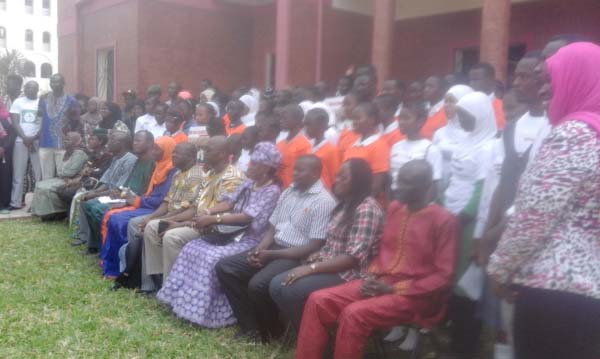 The executive director of Basic and Secondary Education has said teaching children how to read, write and converse is not enough; they must be thought to have respect.
Amie Coleh-Mbye said efforts must be made to teach the children to have respect for themselves, for others and for the world.
"Peace is the only tool that we can use to address the numerous challenges that our world is confronted with," she said during the youth and education forum on 16 days activism against gender-based violence and World AIDS Day held at Ebunjan Theatre at Kanifing.
Mrs Mbye said that in Africa, tribal and ethnic conflicts have been threatening peace and stability of nations therefore people have to incorporate attitudinal change towards the promotion of peace.
She said maintaining peace entails learning to resolve disputes through communication and dialogue rather than violence, adding that the culture of peace should begin at home.
The executive director of basic and secondary education said the current education policy commits The Gambia government to upholding the right of every person to basic education, regardless of gender, age, religion or disability.
"This however cannot be attended without including the culture of peace among students," she said."When student harness a culture of peace, they will be better able to tolerate regardless of their circumstance."
Mrs Mbye said since inclusiveness and school environment are necessary conditions for safe schools, student cannot be expected to reach their potential in an environment where they are unsafe, insecure and intimidated.
According to her, insecure schools can be breeding ground for HIV and AIDS transmission as unscrupulous individuals may take advantage of the insecurity to commit offences such as rape and other forms of sexual harassment.
In his remarks, Almamo Barrow of Action Aid said the 16 days of activism against gender-based violence is an international campaign originating from the first Women's Global Leadership Institute sponsored by the Centre for Women's Global Leadership in 1991.
The campaign started from 25 November 2015, which is the International Day for Elimination of Violence against Women, to 10 December, Human Rights Day.
He said since 1991, thousands of organisations around the world have been in the campaign and in The Gambia it is coordinated by the Network Against Gender-Based Violence.
The theme for the past three years and this year is 'From peace in the home to peace in the world: Let's challenge militarism and end violence against women'.
"This theme focuses on militarism as creation and normalisation of culture of fear that is supported by the use or threat of violence and aggression," Mr Barrow said, adding that this year, the campaign focuses on making education safe for all.
The activism campaign advocates for awareness and action on the multi-faceted intersections of gender-based violence and militarism.
It also highlights the connection between the struggle for economic and social rights and ending gender-based violence in The Gambia.
Njundu Drammeh, chairman of the Network against Gender-Based Violence, said youth and children need to be protected at all cost because they are the future leaders.
"So whatever we do, women and youth in our society must be considered," he said.
Siaka Marong, representative of the Ministry of Women Affairs, said violence in any form should not be accepted.
He said violence like battering, rape, child abuse, sexual harassment, female genital mutilation, and early or forced marriage can easily affect the women directly and indirectly.
Mr Marong hailed the Gambian leader, Yahya Jammeh, for banning FGM.
Read Other Articles In Article (Archive)