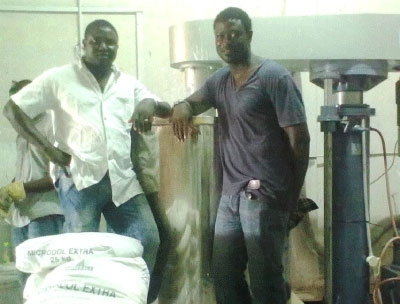 Two young Gambians, Bakary Jawara and Bubaccar Badjie, who have set up a paint manufacturing company in the country at the Kanifing Industrial Estate, yesterday granted The Point an interview at their site.
The duo were residing in Sweden and Holland respectively but decided to come back to The Gambia to contribute to the country's development efforts.
Speaking to The Point at the factory site yesterday, CEO Bakary Jawara, Tinnin Paints Ltd, said he lived in Sweden for 22 years before joining his counterpart to set up the company.
He told this reporter they established the company since 2009 and that they are manufacturing paints for all type of houses, dwellings, T-shirts designs and other art work.
Jawara said the desire to come back home hinged around the motivating factor to set up the company, knowing that nobody was manufacturing paint to end product in the country, which was a big challenge to them .
With regard to the market, Jawara said there aim is to export but right now they are concentrating on the local market.
"We can manufacture most of the paint imported to the country," Tinnin, the CEO, said, noting that their products are environmentally-friendly as well.
He also said they are currently training 19 young Gambians on production skills.
However, he indicated that they only sell 2% out of 100% of paints they manufacture, which is as a result of the strong competition they face from imported paints into to the country "We really need the support of the people of The Gambia and the government," he said.
Even though some people are patronising them by buying their product, the majority are skeptical about buying their products because their paint is made in The Gambia, Jawara said.
"We have put that on the product because we believe in what we are doing," Jawara said proudly because they want the people to practice respecting and believing in the good quality of homemade products.
He urges people to change their perception of made in the Gambia products, saying: "We are here to stay and this is one way of our contribution to the county's development."
He says they will work hard to overcome all difficulties in their way over time, since they are stay put.
Also speaking was Babucarr Badjie, production manager, who said the Tinnin paint is recommended for interior and exterior purposes.
He said he was staying in Holland for the past 12 years. He introduced his partner to the whole idea and they happened to collaborate to set up the business, adding that it cost them about 200,000 Euros to establish the company.
According to the production manager, "Tinnin products are waterbased paints and environmentally-friendly."
He said they have chemicals that can kill any bacteria and spirogyra on walls as well as chemicals that protect metals and help them stay long without getting rust.
Asked about where they get their raw materials, Badjie said they import their raw materials from European countries.
He was optimistic that one day they will be the best paint manufacturing company in West Africa.
He also said their paint is also very much ideal for cars.
According to him, their products are as well reasonable even though they are of high quality.
"We can produce any colour based on the customer's choice, 100% within 2 hours at any volume," he said.
"Through this we can industrialise The Gambia," he said, adding that they will be willing to help other Gambians interested in venturing into the business.
Read Other Articles In Article (Archive)