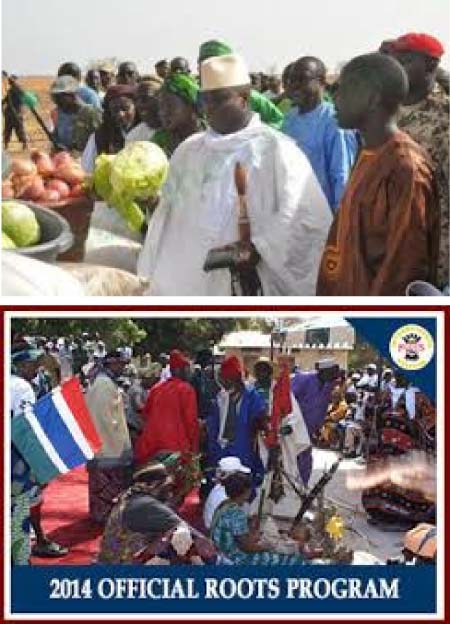 President Yahya Jammeh on Sunday in Banjul declared officially opened the 11th edition of the Roots Homecoming Festival, which has as its theme: "African Culture – its Challenges and Prospects in the 21st Century". The president's keynote address was delivered on his behalf by the Vice President Isatou Njie Saidy.
Tourism and Culture minister Fatou Mass Jobe-Njie, in her statement, said the international guests present included Dr. Julius Garvey son of Marcus Mosiah Garvey, the great pan Africanist, Dr. Runoko Rashidi of the University of California, described as a distinguished pan Africanist, Dr. Doris Derby a veteran of the civil rights movement in the U.S. and Ms Yewande Austin a teacher and classical singer from Howard University and Carnegie Melton University. Also mentioned was Princess Beatrice of Spain.
Jammeh in his speech described the theme as "apt and relevant, especially in a world that is becoming more and more globalized, and where there is a tendency for long-held cultural values of our people being swept under the carpet of modernism and so-called democracy."
He said Africa's value systems stand threatened and this calls for deep reflection as to which way Africa and Africans want to go.
"We owe it to our future generations to preserve those cultural values that are a pivotal part of our heritage on which hinges our destiny as a people; and provides us with the strength, courage and wisdom to continue to deal with neocolonial nuances and hegemony that manifests itself in diverse ways, and threaten our value system as we march forward for political and economic emancipation."
President Jammeh said it is "a moral and historical duty and responsibility for all African peoples to stand up and be counted, and make a positive contribution to Africa's development."
He went on to speak of Africa's wealth and resources, yet Africans remain poor, undernourished and under-educated.
"Therefore, it behoves us all Africans to rise up in unison and address all these challenges, and bring the continent out of the doldrums of poverty and other forms of under-development in the context of the AU Pan Africanism and African Renaissance 2063 Agenda."
In this regard, he continued, the International Roots festival is a cultural celebration, as well as an occasion "to appreciate and recognize our cultural diversity in unity as a source of strength." It also serves as a platform to bring together Africans in and outside of the continent, to interact, reflect and have a dialogue, which promotes understanding among ourselves for mutual cooperation and development.
Declaring "welcome home all our brothers and sisters from the Diaspora who are here with us today" President Jammeh went on to mention the attributes of The Gambia, the Smiling Coast of Africa, and "home to all people of African descent".
"Our doors are open, and we remain friends of all races, but our heritage and dignity will not be traded for any bait be it economic or ideological."
The biennial festival, he pointed out, has become a regular event in the national calendar, and is an occasion which brings us together with our brethren in the Diaspora to celebrate and promote Africa's culture and value systems, "which have withstood the test of time, despite the onslaught of alien and mostly decadent Western-based cultures, which seek to undermine it."
"Before the advent of colonialism, Africans had in place proper political and administrative structures, which if not disturbed could have been the basis of our own development paradigm," he added.
According to the Gambian leader, when his government instituted the Roots festival in 1996, "our objective was to ensure that Africans, especially those in the Diaspora, could 'come home' to learn the value systems of their ancestors, which are still very useful to us Africans who continue to embrace them. Also, through the festival we can forge closer ties with our brothers and sisters in the Diaspora for mutual cooperation and development."
Sunday's opening ceremony for the Roots festival was held at Arch 22 grounds in Banjul. Apart from the speeches delivered, there was a carnival procession from July 22nd Square to Arch 22, with cultural groups, dance troupes, a drum symphony, and masquerades providing cultural entertainment.
The official programme for the seven-day festival, 9 to 15 May 2014, shows today Monday is for the Roots Pilgrimage. It's a day's trip to the villages of Albreda-Juffureh and Kunta Kinteh Island.
This year's festival started on Friday evening with the "Night of the Griots" at the Ebunjan Theatre Complex. It was the place for a "welcome reception" for the guests from overseas, and an occasion for traditional music and dance, music of the kora, halam, historical narratives and traditional songs, as well as drama performances.
On Saturday night, a musical jamboree was held at the Independence Stadium in Bakau which featured international guest artistes and locals. Called a mega musical concert, the performers included Sizzla Kalonji, Scrathylus, Empress Reggae, Mutabaruka, and Yewande.
Mr. Njie Baldeh is covering the International Roots Festival for The Point newspaper.
Read Other Articles In Article (Archive)