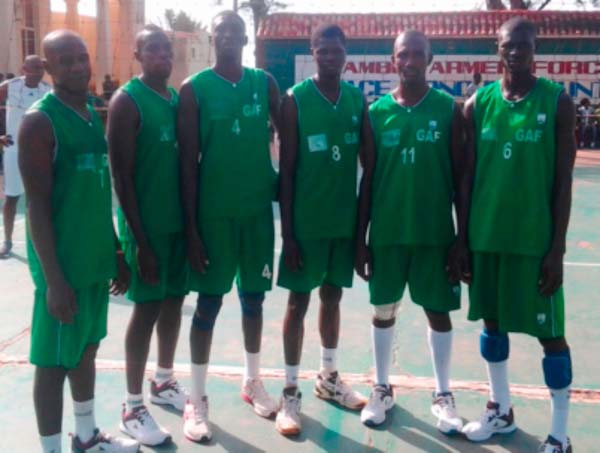 Interior volleyball club imposed a double victory over Serrekunda East on Saturday in Banjul as they beat the Easterners straight sets in female events and 3-2 in the male league.

The police men needed only 78 minutes to record a 3-0 sweep over East female team and make a perfect comeback to the second round of the national league.
Mariama Ginadou and Fatoumatta Ceesay were the game's top scorers while Kumba Jawo and Tida Sanneh both added 10 points as Interior won easily.
In the male events Interior posted a strong set on the visitors in another thrilling 3-2 grand show. Ninety minutes it took them to beat the young East side. The game was 2-0 in Interior's advantage going into the third set, Serrekunda East nearly upholds the biggest shock in the season after inventing win lose ratio against the host.
Early on in the third set, SK East were the ones who posed the threat, and indeed scared their opponents. Without Sainey Jawo, Modou Njie and Kebba Ceesay Serrekunda East are still a force to be reckoned with.
Impressive teamwork, where it was almost scarily instinctive how the timing between players was co-ordinate, allowed the visitors to dominate 10-5, with Siaka Bargie reading his teammates accurately, delivering accurately for spikes to be sent spinning to the opponent's side.
A time-out was called by the police in hopes of recovering the set. Serrekunda East showed their defensive prowess with a dig, preventing the ball from reaching the ground and settled the third and the fourth sets.
With two sets in the bag for both teams, the coaches knew it was their last shot, and fight they did. The deciding set was followed with great rally, leaving even spectators gasping for air, where both teams displayed superb spikes, blocks, and saves, with the point eventually go to Interior as they won 15-12.
And finally on Sunday, Gambia Armed Forces return to the court to register a victory over Brikama, 3-1 in the male event and 3-0 in the female league, whilst Fire Services beat YMCA 3-1.
Earlier on Friday the fixture between Gamtel/Cel and Kotu was called off because Kotu did not appear at the ground thus the 3 points were given to Gamtel/cel, and on the same day Brikama beat Fire Services men team 3-1 to complete week 9.
Read Other Articles In Article (Archive)