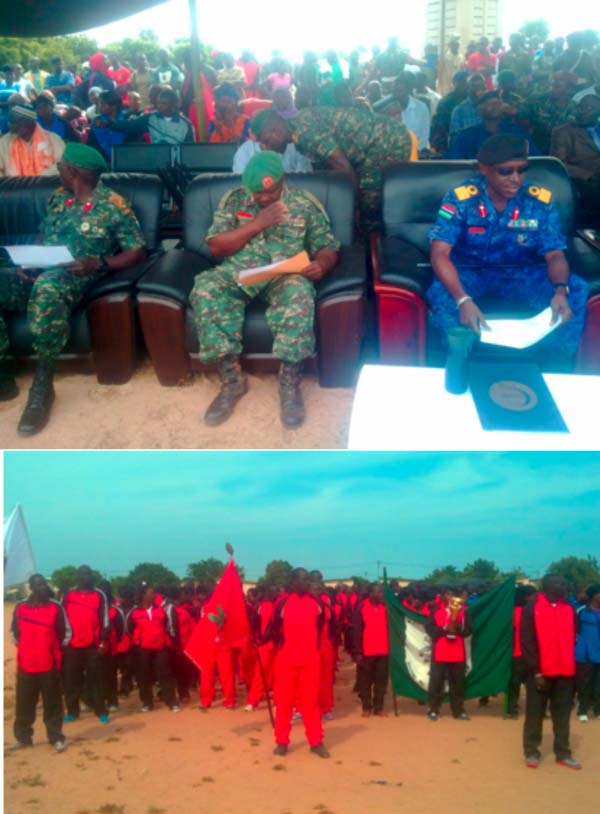 The 4th Edition of the Inter Units Sports Competition organised by the Gambia Armed Forces in accordance with the Chief of Defense Staff of the Gambia Armed Forces Training Directives yesterday began in grand style at the Yundum Barracks.
The two-week sporting activity, geared towards activating the sportsmanship of the troops and bringing them together in the name of camaraderie to keep a healthy competitive spirit among them, will feature events such as football, volleyball, athletics, 15 km marathon race, wrestling and tug of war.
The competition is also meant to cement the cordial inter-Unit cooperation, unity and understanding as well as civil military cooperation.
The units to compete in the competition include 1st Infant battalion, 2nd Infant battalion, Defence Headquarters Camp, Guards Battalion, State Guard Battalion, Gambia Navy and the Gambia Armed Forces Training School.
In his opening remarks, Comodo Sillah Kujabi,Gambia Armed Forces Inspector General, who deputized for the Chief of Defense Staff, said the competition is not only organized for fun, winning trophies, cash or individual awards but also to enhance the spirit of camaraderie as well as promote fitness of troops, discipline and professionalism in the Armed Forces, which will be highly admired within the sub-region and beyond.
He called on the participating units to always bear in mind the spirit of sportsmanship, noting that in every competition there must be winners and losers.
He as well called on them to show maximum discipline and also adhere to the rules and regulation of the competition at all times to ensure a successful competition.
He thanked and applauded the Commander in Chief of the Gambia Armed Forces, President Yahya Jammeh, for his relentless support to the Gambia Armed Forces.
GAF Sports Officer Colonel Kawsu Sanyang, in his remarks, said the event is not only meant to scout talent but also bringing units together to interact in the spirit of camaraderie.
The importance of sports in the Armed Forces cannot be overemphasized, he pointed out, saying sport is an integral part of their day-to-day activities as military personnel.
Sport helps to prevent us from illnesses such as diabetes, high blood, breast cancer and others ailments, he remarked.
Colonel Sanyang called on the participating units to act in the spirit of fair play and always accept defeat.
Camp Commander Major Momodou Dibba, in his welcoming remarks, said the competition has gone the extra mile in bringing troops together in peace and unity.
He called on units taking part in the competition to take it seriously but also compete peacefully as there are no losers at the end of the day.
Second Lieutenant Malick Sanyang, GAF Public Relations Officer, chaired the opening ceremony.
Read Other Articles In Article (Archive)