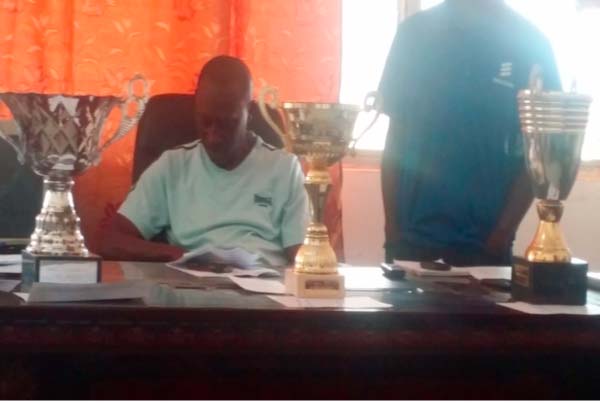 The Gambia Schools Football Association (GSFA) yesterday balloted for this year's national schools football championship for the Upper Basic Schools (UBS) tournament.
The draw took place at the GSFA secretariat at the Independence Stadium in Bakau.
This year's championship will witness eight teams both male and female from the respective regions to contest for the tournament sponsored by the GSFA.
The tournament will take place from 27 June to 2 July 2016.
The grouping for the female championship is as follows: Group A comprises Tallinding Upper Basic School, Presentation Upper Basic School, St John Upper Basic School from Bulock and St. Mulumba's Upper Basic School in URR.
Group B consists of Greater Banjul UBS, Pakalinding, Bakalarr, and Janjabureh.
The grouping for the male category is as follows: group A has Latrikunda UBS, Ndemban, Janjabureh and Kitty, and group B comprises Bakalarr, Tallinding, Keneba and St. Mulumba's.
Speaking at the presentation, Alagie Y. Cham, chairman of the National Organizing Committee, said this year's schools football tournament will be different as they look into setting optimal standard.
"This balloting which is done in a fair and transparent manner is going to witness a very participating and exciting tournament for the Upper Basic Schools," he said.
He urged all schools participating in the tournament to come in or prepare on time for their scheduled games.
Alagie S. Darboe, secretary general of GSFA, commended the regional coordinator for coordinating their region's schools football qualifying round for the championship proper.
He said they have eight qualifying school teams in both junior and senior schools with categories for boys and girls
According to him, GSFA is a new association established from the Gambia Senior Secondary Schools Sports Association (GSSSA).
He said travelling school teams will be hosted at the Stadium's Friendship Hostel.
He advised all the participating school teams to always come on time for the kickoff, and also urged school fans to come in large numbers to support their school teams. 
Read Other Articles In Article (Archive)