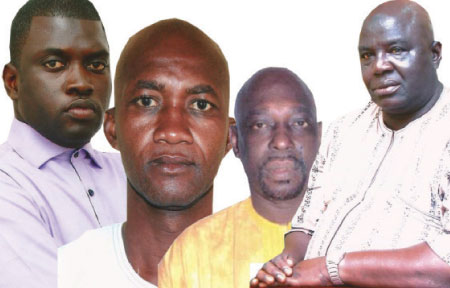 Three independent candidates vying for the mayoral position in Banjul and one for the Kanifing Municipality have spoken about their plans and programmes for their respective councils, if elected in the 4th April Local Government Elections.
Basiru Ndow, Abdoulie Bah and Alagie Jah, all vying for the mayoral seat in Banjul, and Sheikh Omar Saho vying for the mayoral seat in the Kanifing Municipal Council, have told The Point in an exclusive interview that they are the choice of the people in the forthcoming polls.
The candidates, who have been duly nominated by the Independent Electoral Commission talked on a wide range of issues ranging from women empowerment, to employment creation for the youth, waste management and access to clean drinking water.
For the benefit of our readers, below are some excerpts from the interview The Point had with all four independent mayoral candidates.

Basirou Ndow – Independent mayoral candidate, Banjul
We have several plans for Banjul. We are planning to elevate the status of the city, and to develop the infrastructure. One major plan we have is to rehabilitate the drainage system in Banjul, to make sure that it is working properly; because during the last rainy season, we all saw what happened in Banjul; it was very dangerous for the city. We are not going to wait for any disaster to happen for us to react.
We also want to help the women of the city, to be able to train them to gain skills that will help them gain employment, so as to earn a living.
We are also planning to train the youths to gain skills by opening a multi-purpose skills centre in Banjul, that will give them the opportunity to build their skills so that they will be able to gain employment.
Most importantly, we will make sure that the revenue that is earned by the Banjul City Council will be spent and invested in Banjul, to better the city and make it the envy of the world.
We will make sure that we have all the social services needed in Banjul. We will make sure that we solicit funds both within and outside the country to be able to rehabilitate our road networks in Banjul, because we believe that without good roads, our local economy cannot grow and business cannot progress. So we will solicit funds from all around the world, especially from friends and natives of Banjul abroad.
We will make sure that proper education is provided for the youth of Banjul; We will solicit scholarships all over the world to make sure that everybody in Banjul has access to education, and to clean water.
We will also solicit support from within and outside this country to make sure that our pumping station in Banjul is working properly, and make sure that we have an effective waste collection management.
We will also call on our fellow Banjulians abroad to come and contribute to the development and progress of Banjul. We will take politics out of our local issues, because Banjul is our city and it has to be developed by Banjulians. We are Banjulians first before thinking about which party we belong to. Banjul is the economic centre of this country, but if the economic centre of this country is not developed, then we will have problems in moving forward.
I would like to challenge the incumbent to join me in a public debate so that the electorate can hear our views and plans for Banjul. I want to come face to face with him, for him to defend his track record - what has he done for Banjul over the past five years to deserve another mandate, and that is very important. I want to challenge him for a debate anywhere he wants, so that the whole world will know what he has done for Banjul and where he intends to take Banjul, because it cannot be just more of the same.

Sheikh Omar Saho – Independent mayoral candidate KMC
My engagement in politics is related to social emancipation, because I'm very much concerned in regards to the societal deeds and doings. The deeds and doings of every individual is of huge importance, and I want to be a contributor to the governing factors of this country whether at the National Assembly, mayoral level or whatever it may be, to create a better future for the upcoming generation.
By doing my part, others doing their part, then we will do a great job for the future generation.
The whole issue is that when you look at the situation of this country, 80 percent of women are the ones giving school lunch to their children to go to school, and in regard to that 63.46 percent of these women are paying school fees for their children; and what do they do? They are just petty traders, selling fish or vegetables.
They only rely on their small micro-economics which they call 'osusu' to sustain and maintain their families and these are concerns for me; what can I do to help them to be able to independently take care of their families.
I'm also very much concerned about the welfare of Gambian children, because during the day, you see many young children loitering around the markets selling water and other goods, some of which cannot even earn them D30 a day while they should have been in school. Others are scrambling in toxic areas looking for scrap metals and lead, which is very dangerous.
So we want to enlighten, encourage and inform parents that we are responsible for whatever may happen to these children. Also the youth, we have to engage them, we have to do something and if I'm elected, I will do my utmost best to engage the youth in technical subjects.
Right now we have the MDI and the GTTI. Why not we move everything that has to do with administration to MDI and the UTG and make GTTI a polytechnic, whereby we can train our own students to get the technical capacity and know-how.
I will try to do my utmost best to work with people of whatever caliber, those who want to work, those who want to be part and parcel of what Gambia is, because it is our country, it is the place we have as enshrined in our national anthem.
I am in to work for a better Gambia and, if elected as mayor of KMC, I will make a difference. Health and sanitation, environmental hazards are things that we really need to work on. So it is in this aspect that I am thinking that as a Gambian, we can do something if all of us come together and develop this country.
Politics is not a title, but an engagement and that engagement is that one has to put his or her social intelligence to a test. That is what politics is all about, and I want to put what I'm talking about to the test.
Inshallah come 4th April, I will be declared the new mayor of the Kanifing Municipality because I know the people are behind me.

Abdoulie Bah – Independent mayoral candidate, Banjul
I will be successful because all Banjulians came out to support me during my nomination, and I worked at GRA for 30 years as the assistant manager in the important claims section prior to my retirement in the year 2003. During my tenure at GRA, I ably represented GRA in many social and professional gatherings by dint of this social standing and good public relations, and I was a councillor for Campama Ward, from 1987 to 1994.
I came to contest because the situation in Banjul is very disgraceful, and I'm quite sure that it is the responsibility of the municipality to make sure that our streets in Banjul are good. The money collected by the municipality should be ploughed back to the people, but that was not the case for Banjul City Council. How can you take money from the people without putting it into proper use? For me, I'm emulating three former mayors whose contribution to the development of Banjul cannot be overemphasized, namely M.O.B. Lowe who built the inner site of the Albert market, James Gomez who built the frontage of the Albert market and Pa Sallah Jeng who constructed four streets in Banjul. These are the people who have done something for the people of Banjul; this is why I am emulating them for their good deeds.

Alhagi Jah – Independent mayoral candidate, Banjul
Let me first send my condolence to the family of the late Micheal O'Riley who stood by me when I started the process, but unfortunately he died on the 9th March 2013 and was laid to rest on the 15th March 2013.
I set up the garbage collection system for Banjul City Council in 2002 during Pa Sallah Jeng's time as mayor of BCC, based on a consultancy and, within a month, we collected all the garbage from all the compounds  within the city.
From 2003 to 2004, I was also instrumental in securing the Canadian Fund for BCC, which was meant to alleviate the drainage problem within the city, because I do believe that I have programs and solutions that could address most problems that the city is facing presently.
If I am elected into office, my first priority is to alleviate the problem of flooding within the city, because during the rainy season, Banjul faces serious flooding and the condition of streets within the city is deplorable.
I will also be doing my utmost best to initiate continued maintenance of the streets, and make sure that the city can actually give contracts to its own people because we have efficient contractors in the city, thereby creating employment for some of the residents and save money for the council too.
If I am elected, I will formulate a street cleansing system that would provide twice a week sweeping of each street in the city. I will come up with a comprehensive proposal to address the problem of water packs that are being thrown on the streets.
This would be done within my first three months in office; and that would cost the city nothing. I am confident that if elected into office, within two years Banjul would be environmentally free from waste.
Read Other Articles In Article (Archive)