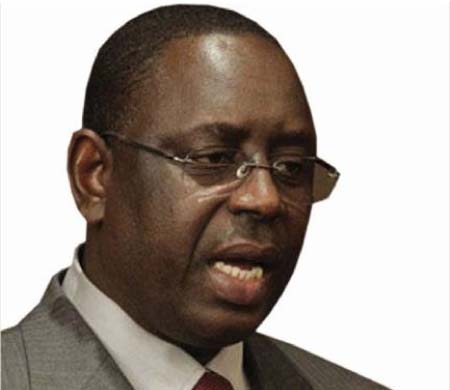 Senegalese President Macky Sall referring to the current trial of Karim Wade has declared: "If the allegations levelled against him are not true, the court cannot convict him".
"There is no political prisoner in Senegal", and Karim Wade's trial is not politically-motivated, and it is up to the court to make its findings and make a decision, the Senegalese President further stated in an exclusive interview with TV 5 of France.
Senegal is a state which has respect for the decisions of the judiciary, he added.
Eminent lawyers from both France and Senegal are defending the accused person, and it's up to Karim Wade to prove his innocence, Sall continued.
Asked whether he sees Karim Wade as a threat in 2017, date for Senegal's next presidential election, Sall replied, "No".
Sall was speaking to TV 5 in Washington, D.C. during the U.S.-Africa summit, which ended Wednesday.
Macky Sall made it clear that if there is no evidence against Karim Wade, then the court cannot convict him.
It would be recalled that Karim Wade, the son of former President Abdoulaye Wade, is on trial for alleged corruption before the special court for illicit enrichment at Dakar's Palais de Justice in Senegal.
According to news agency reports Wade, nicknamed "the minister of heaven and earth" because the controlled five ministries when his father was in power, is accused of illegally amassing a fortune of 117 billion CFA francs ($240 million).
Wade, who denies any wrongdoing, said at the opening of his trial last week that he is a "political prisoner".
Meanwhile, when the trial started in Dakar last week, counsel for Karim Wade raised the issue of whether the court of illicit enrichment has competence to hear the case, and said the charges preferred against him should be heard by the high court.
Judge Henry Gregoire Diop said on Wednesday 6 August 2014, he took note of the complaint by the defence team, and would make ruling on 18 August 2014, on whether the matter should continue to be heard by the court of illicit enrichment or at the high court.
Meanwhile, it was reported that the state has lined up 80 witnesses.
Karim Wade's defence team comprised Soleyman Ndene Ndiaye, a former prime minister in Wade's government, Madike Niang, Amadou Sall a former minister of justice in Wade's government, and Alioune Cisse a former foreign minister in Macky Sall's government and who was the number 2 in the APR party of Macky Sall.
The prosecution at the trial's beginning questioned the composition of Karim Wade's defence team, on the grounds that some of the members served in Wade's government, but the court last Tuesday ruled that the counsel can defend Karim Wade.
It would be recalled that Karim was arrested and detained since April last year.
Read Other Articles In Article (Archive)