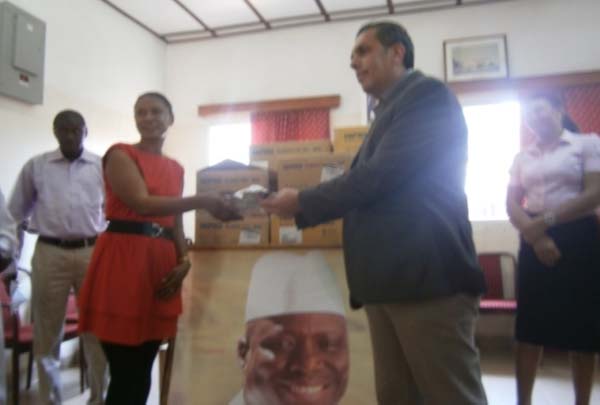 Ida Bass Kidney Foundation, a charitable organization based in the UK, Wednesday made a handsome donation to Hem dialyzes unit of Edward Francis Small Teaching Hospital.
The donated items included 120 high flux dialyzers, 120 low flux dialyzers, 220 sets of blood lines, 1 box containing 5 triple lumen catheter sets 150mm, 10 double lumen 200mm acute catheter sets, 10 double lumen 150mm acute catheter sets, 50 sterile transparent dressing with securing tape for catheters and 50 fistula pressure pads.
Speaking at the presentation, Sailey Jallow Fladsrud, said the charity was set up in June last year.
She said she visited the hospital and was humbled to see how those suffering from hem dialyze were treated and she decided to talk to them to see how best she could help.
She said she consulted them to find out what they needed, adding that they were just starting and would see how best they could further help them.
She said the items donated worth £3,700.  
Dr Ammar Al-Jafari, chief medical director of EFSTH, said they were very happy to know there were proud sons and daughters of The Gambia eager to help.
He said they appreciated everything and the items would be put into good use.   
Fatou Ceesay Nyabally, chairperson of the donation committee, said when they talk about dialyze they should thank the President who ensured they have the dialyze unit in the hospital.
He said dialyze is a course for concern and the donated items would be put into good use. 
Read Other Articles In Article (Archive)