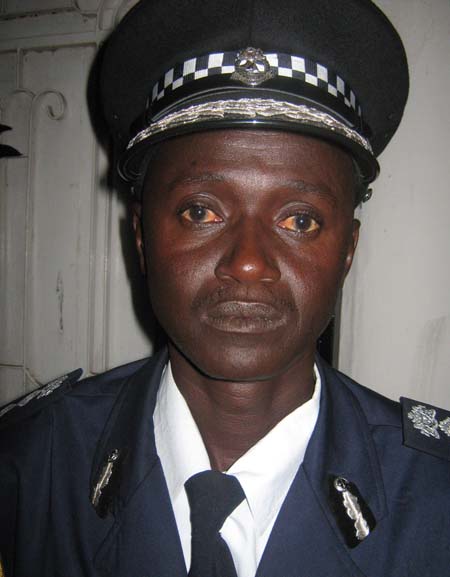 Soriba Condeh, a convict serving sentence at the State Central Prison at Mile 2 and a witness for the prosecution, has said he gave D300,000 to one Fatou Mendy for safe keeping, and that the money was later retrieved and handed over to the 1st accused, Ensa Badjie.
The trial of ex police chief Ensa Badjie resumed yesterday at the high court in Banjul, before the special criminal court presided over by Justice Ikpala.
"I handed the bag containing the amount of money to Tony who gave it to Ensa Badjie in my presence," the prosecution witness told the special criminal court.
Condeh who was unable to finished his marathon testimony during previous court sittings further told the court that after spending sometime in Banjul he went back to City Pub.
At City Pub, he added "myself, Tony and the 1st accused went to Fatou Mendy's compound with the 1st accused person's car, where I retrieved the remaining money."
Condeh who was testifying for the prosecution further adduced that Tony later complained to him (Condeh) that the 1st accused did not give him anything from the said money. 
He added that, at around 5 pm, on the same day he gave the said money to the 1st accused, he (Ensa Badjie) instructed one Dodou Janneh not to interfere again with him (Condeh) whenever he sees him using the 1st accused person's car.
According to the witness, that particular operation ended there.
Another Operation
Condeh further testified that he was given another operation by Ensa Badjie to break into a supermarket. Those involved in the operation, he added, comprised himself, Momodou Camara, Ebrima Suma, Amadou Jallow, Muhammed Banjura and Salieu Jallow.
The said supermarket was located before Tipper Garage (Bakoteh), Condeh further told the court.
"We opened the door and entered the supermarket, and we took monies, but I don't know the amount each of us took. And we later left for a nearby rice field," the witness added.
According to him, when they noticed that two police officers were following them, while going toward the rice field, they ran in different directions.
On the following morning, when they came together, it came to their knowledge that one of their colleagues, Salieu Baldeh, was arrested.
"We gathered D15,000, and I called the 1st accused and informed him about the arrest of our boy, and the 1st accused asked where the boy was being held. I told him that it was at Serrakunda police station," he added.
"We met the 1st accused, and gave him D15, 000 so that our boy could be released. The 1st accused made a phone call to Serrakunda police station who informed him that the boy was already taken to Serious Crime Unit in Banjul," the witness said.
The 1st accused, he added, told him that he will call the Serious Crime Unit to take the arrested person to Bundung police station, which he did.
"Our boy was taken to Bundung police station where the 1st accused gave me Sgt Omar Jahateh's number to call him, because he was to prosecute my friend," the witness adduced.
"I told Sgt Jahateh that it was the 1st accused who introduced me to you, and it was in respect of my friend, Salieu Jallow. Sgt Omar Jahateh told me to meet him at London Corner," he adduced.
"I went to meet him, and I informed him that I'm at a nearby junction. A woman in that compound sent someone to call Omar Jahateh, and I gave D2500 to one Marry to give to Jahateh, which she did."
He further adduced that Jahateh asked the said Marry to go to the station the next day, so that the boy can be released. Sgt Jahateh subsequently released the boy.
Third Operation  
Condeh continued to tell the court how they performed their robberies. He said their last operation was in respect of a bank located behind Serrakunda Mosque.
Condeh adduced that they were instructed by Ensa Badjie to carry out that particular operation, which included himself, Muhammed Camara, Ebrima Suma, Muhammed Darboe now in prison, and Lamin Drammeh.
He testified further that "we opened the bank, and took the safe to the vicinity of Serrakunda School, as the watchman ran away."
Condeh told the court that when they arrived at the bank, and before they could put the safe in the car, the watchman who ran away gave the paramilitary the information.
"I called the 1st accused and told him that, although we have taken the safe, but could not escape with it. That was how that operation ended," he added.
Condeh said none of them was arrested during this operation, and it was later that he was arrested. They have only carried out three operations, he told the court.
"I was arrested, but not taken to court. I was found in a bar by police officers with a motor bike, and they told me that they suspected me, and I was arrested and taken to Bakoteh police station."
At Bakoteh police station, he added, "I called Tony informing him of my arrest, so that he could also inform the 1st accused, who later asked Tony where I was and Tony told him at Bakoteh Police."
At this juncture, defence counsel Borry Touray representing Ensa Badjie, applied for an adjournment on the grounds that he had another matter in a separate court.
The prosecution was represented by the deputy DPP, M. Abdulahi.
Justice Ikpala then adjourned the trial to 5th July, and emphasised that he will hear the trial on a daily basis starting from 5th July 2010.
Ensa Badjie the former Inspector General of Police and Chief Superintendent of Prison Ali Ceesay were indicted on different counts, such as conspiracy to commit a felony, robbery with violence, receiving stolen property, aiding and abetting, robbery, conspiracy to commit misdemeanor, official corruption, conspiracy to defeat justice and interference with witnesses, deceiving witnesses, and offences relating to judicial proceedings.
Read Other Articles In Article (Archive)