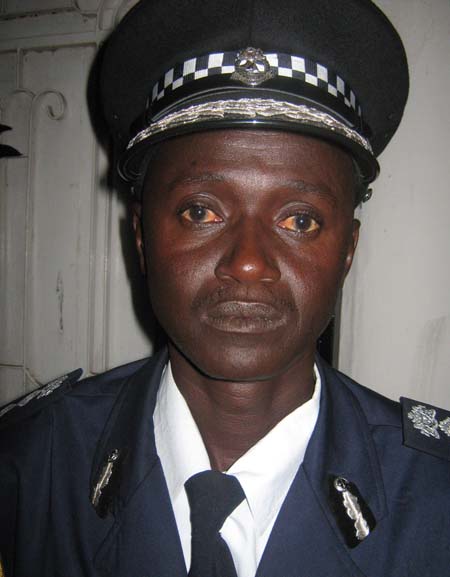 The embattled former Inspector-General of Police, Ensa Badjie, told the Banjul High Court during Friday's proceeding that he endured pain for two weeks due to severe torture he encountered in the hands of the National Intelligence Agency (NIA) during events leading to obtaining of his statements at the agency.
Ensa Badjie made this disclosure while concluding his defence in the trial within trial, otherwise called 'voire dire', to ascertain the voluntariness of his cautionary statement taken from him during interrogations at the NIA. The former IGP claimed that he was "tortured and abused" when statements were being obtained from him at the NIA.
Badjie is facing 51-count indictment alongside two senior military officers, Major Kuluteh Manneh and Lt Colonel Mam Matarr Secka, before Justice Emmanuel Amadi of the Banjul High Court. The charges against the trio include abuse of office, official corruption, conspiracy to commit a felony, obtaining goods and money by false pretence, and economic crime.
Continuing his narration, Badjie told the court: "When Omar Cham brought those statements for me to sign, I refused to sign because the content in those statements were not that of me. After my refusal, Cham cautioned me and told me what they did to Sillaba Samateh (tortured) will also be applied on me."
Badjie revealed that when he refused to append his signature on those statements both his hands "were handcuffed". "I was told to sit on the floor at the conference hall on10th March 2010," the former police chief told the court. "Cham and others put an iron bar between my legs and jacked me up between the two chairs with an iron bar. They started beating me until they were tired and I was crying in their hands. I was seriously tortured and I was left with no further choice but to sign those statements which I earlier refused to sign at that night."
Badjie however told the court that it was untrue that Babucarr Khan, an independent witness, was present when those statements were obtained from him.
He added that he saw Khan on 13 March 2010 at the NIA when they were about to leave after making other statements, adding that Khan did not signed any statement in his presence. "I could remember sometime in March 2010 when I was picked up by the NIA operatives at the State Central Prison of Mile Two and I was told that I had a storey building at Fajara, which was unfounded because those buildings do not belong to me."
"Then I was driven again to old Yundum where they also claimed that I had another building, which was also untrue. They only found a canteen measuring three by three meters owned by my wife," Badjie explained.
He adduced that he made another statement regarding that canteen and Khan was present that day. He insisted that Babucarr Khan was not present on 7 March 2010, at the time of recording that statement, arguing that "the evidence of Khan is untrue".
Defence witness one, as designated by the court, further adduced: "I knew Khan at the NIA because he worked under Omar Barrow as a carpenter; Omar works at the NIA and Khan also works for the Government."
"I did not write those statements. I wanted to write my own but Cham insisted and said that one of the panel members should write it for me," Badjie told the court, adding that he was maltreated at the conference hall, where there were chains, handcuffs and offensive tools.
"When I was taken back to the prisons, I was bleeding through my nose. It took me two weeks to endure the pain due to severe beating."
Ensa Badjie through his defence counsel, Borry S. Touray, said the defence will be calling witnesses.
The Deputy Director of Public Prosecutions, S.H. Barkun, represented the State.
The case was at that juncture adjourned until 11 and 23 February 2011 at 11am and 2pm respectively.
Read Other Articles In Article (Archive)