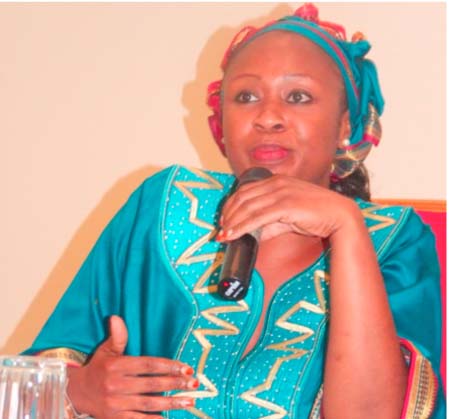 We are ensuring that every child under age 18 is given the opportunity to develop, says Gambia's Justice Minister Mama Fatima Singhateh

Gambian lawmakers Thursday passed a bill criminalizing child marriage in the country, less than a month after President Yahya Jammeh announced an immediate ban on the practice.
The bill, presented by Gambia's justice minister and attorney general, Mama Fatima Singhateh, now awaits the president's signature after which it will be published in the National Gazette within 90 days before it becomes active.
"A parent, guardian or any other adult who willfully contracts a marriage on behalf of a child or causes a child to contract a marriage of forces commits an offence and is liable on conviction to imprisonment not exceeding twenty years," the new law states.
The law would give the same punishment to anyone who conspires to marrying off a girl below the age of 18 or anyone who betroths a child to any person or makes a child subject to a dowry transaction.
The new law also has a punishment of up to 10 years for anyone who is aware of the practice and "intentionally" fails to report it, leaving no option for a fine.
"Children are not physically and psychologically prepared to be parents," the Justice Minister said.
"What we are doing is to ensure that every child under the age of 18 is given the opportunity to develop… Child marriage is depriving our children of their full growth and of education."
Deputy Speaker of the National Assembly, Hon. Fatou Mbaye, in her comments on the development, said: "Child marriage is a long-standing practice, but it does not mean that it is correct."
"Young children are very vulnerable to all types of abuses – so we cannot let child marriage continue… Children of today are in transit to be the leaders of tomorrow."
In his remark on the issue, Majority Leader of the National Assembly, Fabakary Tombong Jatta, said the government's decision to ban child marriage sprang from their desire to educate every Gambian child.
"For one to finish secondary education, he or she has to be at least age 18, and education is a fundamental right in the constitution. So there is a need for government to criminalize child marriage," he said.
Njundu Drammeh, a leading Gambian child rights activist and executive director of the Child Protection Alliance, said the law is a welcome development but added that child marriage, given its severity in Gambian society, can only be ended by making people abhor the practice.
"This is very important because it will help us ensure the protection and security of our children's future," he said following passage of the bill.
"But law is not the only cure to the social problem… So we need to sensitize the parents and communities and it is important that even children themselves know about the effects of child marriage."
On July 6, President Jammeh announced a ban on child marriage and promised the government would give a measure to lawmakers to complete the process before July 22.
Child marriage is one of the major health concerns of women in The Gambia and according to a government health survey last year, about 16 per cent of women age 20-49 were married by 15 and 41 per cent by the age of 18.
Barely a month before President Jammeh made the announcement; first lady Zineb Jammeh led a nationwide campaign to end child marriage in The Gambia as part of the African Union agenda to protect girls across Africa.
Read Other Articles In Article (Archive)