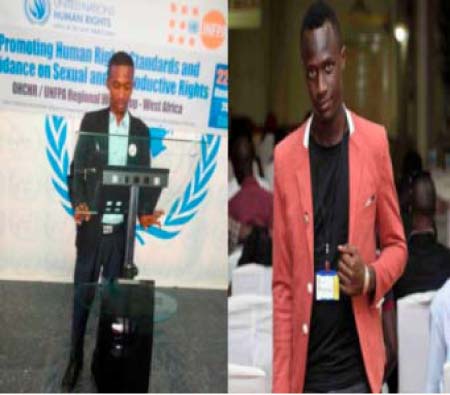 Activists and Journalists active in the service of women and girls and issues affecting them, yesterday spoke to this reporter on the occasion of International Women's Day 2017, which is on the theme: "Women in the Changing World of Work: Planet 50-50 by 2030" and under the campaign theme: "Be bold for change."

8th March every year was dedicated by the United Nations as International Women's Day to celebrate women and girls all over the world; to talk about issues affecting them and influence policies and laws in solving these issues.
Amadou O. Bah secretary general, Network of Journalists on Reproductive Health, Population and Development, and the MD of Bwiam Community Radio, said women should be bold enough to contest the National Assembly Elections.
The National Assembly election is fast approaching and candidates are emerging, mainly males; and it is high time women are given the opportunity to contest. The women themselves should be bold enough, and come out of hiding to contest the National Assembly elections.
Most significant positions in the new government are being occupied by men, and some women, who were also approached to take up positions, but that is not enough, according to Mr Bah.
He said "what men can do women can do even better, because women are more trustworthy, serious with what they do and dedicated".
He has seen women as organization heads and managing successful projects, and doing everything possible to ensure the completion of those projects; and that commitment and seriousness shows that women are more than fit and ready to be at the National Assembly, if supported and their campaigns financed.
Bah added that it was high time that the rights of women are respected; and that cannot be strengthened and enforced to the letter, if there is no 50% representation of women in the National Assembly, he went on.
Women have a pivotal role to play in the development of the country, and that is why they are needed in the National Assembly, he continued.
On the government's commitment to ensure the right of women in accessing family planning commodities and services in the country, Bah said it all comes down to the attitude of men towards their wives.
He said some men see their wives as properties and not partners, and as such they tend to deprive them of the right to have access to FP commodities and services.
The government has a significant role to play in this situation, since they should protect and promote the rights and welfare of the women of this country.
"We are challenging the government to make sure that women's right to access family planning services and commodities are respected, protected and addressed."
It is only a healthy woman that can contribute to the upbringing of a healthy family, which will in turn contribute to a healthier population whose problems and concerns can be addressed easily by the government.
He said respecting a woman's reproductive health rights is the solution to a healthier and responsible population growth.
Andrew Gibba, a youth show presenter with Paradise FM, the Activista deputy KM chairman, information officer Your Change for Change, and women deliver scholar 2016, said the campaign theme: "Be bold for change", means women and girls should be celebrated every day, not only on women's day.
"Be bold for change" is to empower women and girls who are still caught up in the culture of silence to break it, and to be bold enough to talk about issues affecting them to not only their communities, but the world at large."
All over the globe, the ratio of men to women in parliament is always in favour of males, and The Gambia is not an exception. "Democracy is about inclusion."
The National Assembly is a constitutional body responsible for lawmaking. These functions require innovation, energy, skills and resilience. Women possess all these qualities; hence they should be given the opportunity to participate fully in governance.
"The Assembly needs to tap the potentials of young women through engaging them in policy-making. No society develops if it leaves out women and girls," he said.
If Gambia's population is largely dominated by women and girls, and if we say that democracy is government of the people, for and by the people, then it is logical to say that the National Assembly should have enough representation of women, he went on.
After a massive sensitization on FGM in The Gambia, he is sure that the people now know the risks attached to FGM, and that whatever positive aspects the society use to say it has in the past, we now know that this is not the case.
The clitoris that is cut is a very important organ of the female reproductive system, which should not be tampered with.
Gibba, therefore, called on the government to further strengthen the anti-FGM law, and support women-led organizations to keep advocating for the end of FGM not only in The Gambia, but the world at large.
Read Other Articles In Article (Archive)