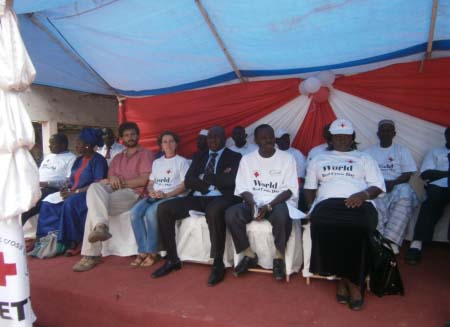 The Gambia Red Cross Society recently celebrated World Red Cross Day on the theme: "My Red Cross Story" held at the Brikama Area Council headquarters in Brikama.
The day brought together volunteers across the length and breadth of the country among other dignitaries.
Speaking at the ceremony, Fatou Gaye, acting secretary, Gambia Red Cross Society, said the Society is a humanitarian and relief organization that also helps women of The Gambia and is directly under the Ministry of Health and Social Welfare.
She said the strategic drive of the Gambia Red Cross Society is principally based on values of the Red Cross.
These values of the Red Cross movement are to ensure all parties and people understand they "do not take sides", she stated.
She also said they are only interested in helping those who suffer and do so with impartiality regardless of the person's nationality, religion, opinion or belief.
This is key to them as they help people who need their help, especially in terms of conflicts, disasters or epidemics, she added.
She also said they do this by launching development-oriented programmes, community resilience initiatives using technologies to improve their response seeking the leadership of young people in their attempt to extend their services.
Fabakary Kalleh, in his speech, said the Red Cross movement was the largest and the longest serving international movement, with impartiality, neutrality, and volunteerism, as they serve humanity unconditionally.
All other organizations derive their inspirations from the international Red Cross movement, he said, adding that Hendry thought they must be civilised enough to take care of the wounded and the sick, since the founder's argument was rooted in human nature.
The mission of serving people in the battlefield had changed over time and expanded, he said, adding that in Red Cross their principles are developed out of experience and field work.
He said in the values of the Red Cross and the Red Crescent movement, first is the principle of humanity, which states that international Red Cross and Red Crescent movement, born of the desire to bring assistance to the wounded and the sick in the battlefield, shall endeavour in its national and international capacity to alleviate human suffering it may find.
The principle, he pointed out, is also geared towards protecting life and health and promoting human dignity.
It as well promotes friendship, cooperation and lasting peace among people of all races and backgrounds.
Certificates were given to some of the volunteers in recognition of their service to humanity, at the end of the event.
Read Other Articles In Article (Archive)