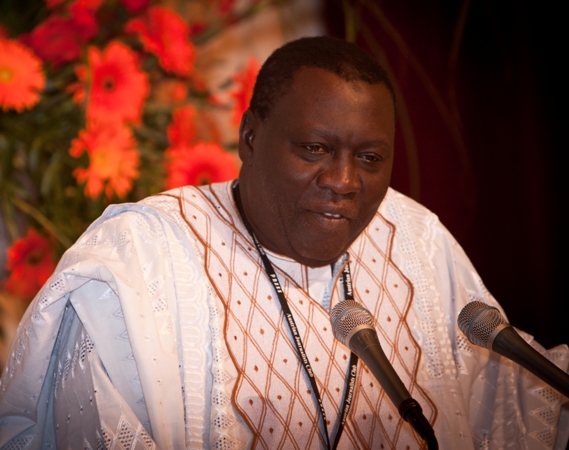 The Executive Director of the Gambia Press Union Aloa Ahmed Alota has said that Pap Saine's world press freedom hero award has drawn global attention to the media situation in The Gambia.
Mr. Saine, the Managing Editor and co-proprietor of The Point newspaper was awarded by the International Press Institute (IPI) in Vienna, Austria in recognition of his commitment and dedication to the promotion of journalism during the past 40 years.
Mr. Alota who worked at The Point and co-authored the book - A Living Mirror - which chronicles the life of Mr. Saine's slain colleague and co-founder of The Point Deyda Hydara said this is the second award given to The Point newspaper. The first was in 2006 in Germany.
He said: "This means that The Gambian media is steadily gaining international attention and approval, which is a good development.
Considering what happened last year that is the conviction of the six journalists, this award will serve as an inspiration to all journalists to be steadfast in the pursuit to the common good."
Alota observed that the prestigious award will boost Saine's tenacity to press on with the pursuit of truth despite obvious challenges.
He also said lot of young journalists will draw inspiration from Saine and will refused to be frightened out of the profession.
The Press Union Director said Saine has gone through a lot of ordeal since 2004, and that journalism has done him good since 2004. "So I suppose he would have to learn to take the good with the bad," said Alota.
He told this reporter that every award is a reward for excellence in a particular activity. Despite all the tribulations Saine went through last year, he still sticks with journalism.
This, he said, explains why he has been named International Press Institute press freedom hero for 2010.
The Director said this is one of the greatest awards that can be conferred on any journalist.
He also indicated that the award imposes a huge responsibility on Pap Saine as a journalist and person. He said Saine is therefore expected to be the vanguard for the defense of freedom of expression in the world.
Read Other Articles In Article (Archive)