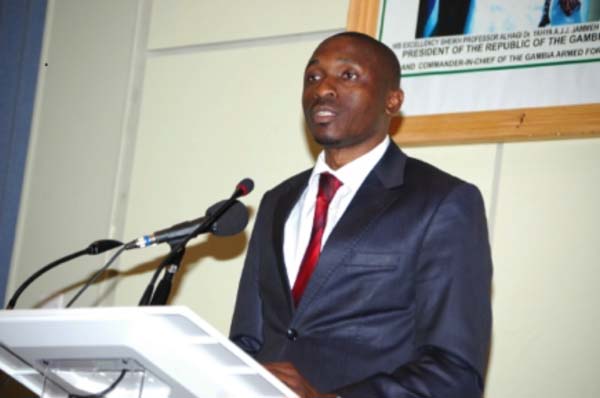 The Permanent Secretary at the Ministry of Information, and Communication Infrastructure, MOICI, Lamin Camara, has said the government would ensure that ICT plans are implemented as designed to the satisfaction of the Gambian people and development partners.
PS Camara made this statement yesterday at a consultative and validation workshop on phase II implementation plans in the National Information and Communications Infrastructure policy (NICI), held at the Paradise Suites Hotel in Kololi.
The forum, which drew participants from the Office of the President, Ministry of Basic and Secondary Education, Ministry of Health and Energy and other sectors, discussed the NICI format prepared by a consultant.
In his opening remarks, PS Camara said the forum was to consolidate and validate another set of implementation plans of the NICI policy.
The forum was another manifestation of government's commitment to a holistic Information and Communication Technology (ICT) Programme, as an integral part of the government's Vision 2020 agenda, he said.
Due to the phase approach of the development of the NICI plans, phase II is looking at the pillars of e-Agriculture, e-Health, e-Commerce and e-Tourism, which would add to previous plans or undertakings of ICT.
E-Government, ICT in education, and communities and Human Resources Development all constitute part of the building blocks transforming The Gambia to an information and knowledge-based society consistent with the NICI policy.
According to PS Camara, it was envisaged that the implementation plans would challenge government and all relevant institutions as they would subsequently reflect and add impetus to the strategic plans of the relevant sectors.
He further challenged participants to strive to consolidate the gains of the national ICT programme at the level of the various sectors to achieve specific objectives, as well as to give special attention to the agricultural sector by developing a special ICT support plan for the attainment of President Yahya Jammeh's Vision 2016.
He pointed out that the comprehensive implementation plans or format cover details of how ICTs could contribute to the achievement of sector targets of the Millennium Development Goals and by extension the Millennium Sustainable Development Agenda - the sector programme of the MDGs.
Mr Camara thanked UNECA for providing the resources and lead experts for the NICI policy and plans development process, the UNDP for complementing government's efforts under its support programme with MOICI and participants.
Read Other Articles In Article (Archive)