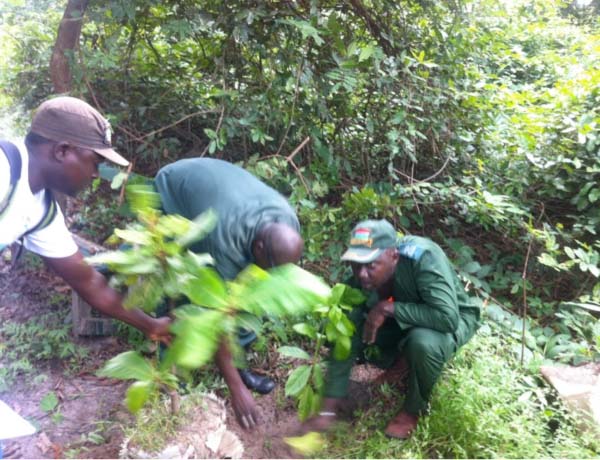 Staff of the Department of Parks and Wildlife Management (DPWM) in collaboration with other stakeholders Tuesday planted indigenous fruit trees at the Abuko Nature Reserve.
The initiative was supported by the United Nations Development Programme (UNDP) through the Country Programme Action Plan (CPAP), an agreement between the UNDP and the Gambia government.
Speaking to journalists shortly after the exercise, Ousainou Touray, assistant director at DPWM responsible for technical matters, said the indigenous fruit trees were planted to provide adequate food for the animals there.
The exercise is expected to reduce the human-wildlife conflicts within the communities of the nature reserve such as Lamin, Abuko and Banjulinding.
Mr Touray said the planted fruit trees would provide "sufficient food for the animals" within the reserve rather than the animals going to the farms and gardens of the neighbouring communities.
He said the trees would also serve as replacement of the dead trees and guard against environmental degradation.
Babucarr Dumbuya, focal point for the CPAP at DPWM, said one of the activities to be implemented under the programme is planting 100 bags of mangrove seedlings and 100 indigenous fruit species.
Out of the 100 bags of mangrove, 40 will be planted in Kasange; 30 in Tintinba.The remaining 30 bags will be planted in Tanbi Wetland Complex.
Ebrima Singhateh, a warden at the Abuko Nature Reserve, said the planting of indigenous trees by the DPWM is one of "the best initiatives" in terms of conservation techniques.
He hailed the staff of DPWM and other stakeholders for their participation in the exercise.
Mr Singhateh said planting trees is significant in the protection and preservation of the environment while assuring all that the planted trees would be taken care of to reach maturity.
He warden called on local communities to be more pro-active in environmental protection, by planting more trees for the continuation of life.
Read Other Articles In Article (Archive)