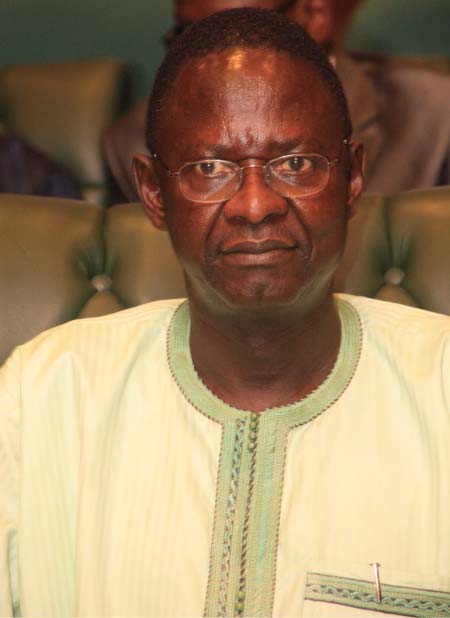 Finance and Economic Affairs Minister Kebba Satou Touray has said government policy in agriculture will focus on investments in irrigation infrastructure and mechanization of the agriculture value chain.
The Finance Minister made this statement last Friday whilst delivering the 2015 budget speech at the National Assembly.
Minister Touray said climate change, leading to a delayed and erratic rainfall pattern in some parts of the country, affected agricultural output, which would cause an expected decline of 15 per cent in produce compared to last year.
The government will do everything in its power to ensure that the affected few are adequately supported and moving forward, he said, adding: "The external shocks outlined above, coupled with spending pressures mainly in the energy and health sectors diluted our growth prospects for 2014. The effects of these shocks necessitated the downward revision of our growth forecast to 2 per cent from 5.5 per cent."
The Finance Minister said that despite the challenges faced by the economy, the government is determined to fix the imbalances and restore macroeconomic stability through sound fiscal and monetary policies aimed at increasing efficiency in expenditures, revenue generation and service delivery.
"In this regard, Government is working to finalize a rapid credit facility (RCF) programme with the IMF to succeed the Extended Credit Facility (ECF) which was due to end in May 2015," he stated.
"In 2015, Government will adopt new policy measures including Public Enterprise reform, using frameworks such as Performance Contract, Management Contract, Public Private Partnerships, leasing, etc.
"Government will also continue on Procurement reforms and in this regard, the Major Tender Board shall be re-established as from 1st January 2015."
This policy measures, Minister Touray noted, aims at greater efficiency and transparency in public procurement.
According to the Finance Minister, private sector development remains the policy objective of the government.
"In this regard, I wish to renew Government's call on the private sector to take their critical role in economic development," he said.
"One recent important policy measure adopted by Government in support of private sector development is the establishment of a Public Private Partnership Unit in the Ministry of Finance and Economic Affairs."
He continued: "A PPP policy has already been developed and it provides the framework for Government to partner with the private sector in national development."
He said the government would build on the strides made in initiatives such as the Africa Coast to Europe known as the ACE project.
Limiting domestic borrowing
The Finance Minister, still on the budget, further said the 2015 budget is anchored on limiting Net Domestic Borrowing to 1 per cent of GDP at 31st December 2015.
This policy objective will generate savings, create buffers, and support macroeconomic stability and growth, Hon. Touray said, adding: "In this regard, we once again call on our development partners including the private sector to support our economic development agenda.
"Government on its part will provide the necessary leadership to reach our desired goal."
The Finance minister said government programmes in 2015 would focus on the attainment of Vision 2016, whilst at the same time ensuring fiscal discipline to narrow down the deficit and domestic borrowing.
World economic outlook
He added that the latest World Economic Outlook (WCO October 2014), by the International Monetary Fund, indicated that global economic recovery continued to be uneven, with the pace becoming more country specific.
He said overall global growth for 2014 was projected at 3.3 per cent and 3.8 percent for 2015.
"These projections are based on the assumptions that there will be moderation of fiscal consolidation, continuation of accommodation monetary policy, and an easing of geo-political tensions."
Read Other Articles In Article (Archive)