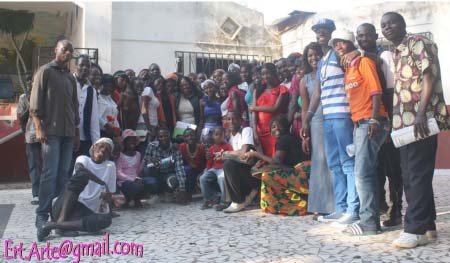 Promotion, a Gambian promotion label, has held essential international business training for artistes in the country, in acceleration of its promotion of artistes and events.
The GMB membership consists of young dynamic Gambians who are all below 25 years of age.
The training, which brought together some upcoming Gambian artistes, was held at Brikama Jokor courtesy of the CEO of GMB Promotions Chris Black and the CEO of MBE Consulting, Inc and JOTD Productions Mrs Tina Jones Savadogo from the United States.
In his welcoming remarks at the training, Chris Black said going through the history of Gambian music, he has never seen a training more organised than this.
The CEO of GMB Promotions said they don't discriminate and even if someone is born today with a talent they are there to promote that person regardless of religion, tribe, age, etc.
"We want to encourage young Gambians to be fit in the media, showcase their talents and take part in entertainment activities in The Gambia and beyond," he stated.
He said all the trainers at the workshop are from the United States, making it an international business training for musicians.
The training was facilitated such that a renowned producer from the United States did call through Skype and address the musicians.
Also speaking to journalists after the training in Brikama, Madam Tina Jones, who was the main trainer, said her company is a consultancy firm and that they do production of film, music, talent hunt, art and other jobs.
Her main intention of holding the training was to breach the gap between Africans and Americans.
"So the CEO of GMB Promotion asked me to organise a workshop for Gambian artistes before I leave for the U.S. I have a masters' degree in Business Administration. I work in the entertainment and consultancy industry, and with my experience I thought it wise to conduct a workshop for young musicians in The Gambia before I leave for the U.S," she explained, saying she was very impressed with the manner the training was conducted as well as with the audience.
The training was highly interactive as the participants were eager to learn.
She said she hopes the training can be a stepping stone for musicians to be equipped and for the industry in general.
Madam Tina Jones also said she is really impressed with The Gambia and promised to come back soon to get in touch with more promoters and artistes, to contribute more to the development of the industry.
Other speakers on the laudable initiative were Mrs Erna and Mr Ebrima Jobarteh, who all showed appreciation for the training.
Read Other Articles In Article (Archive)