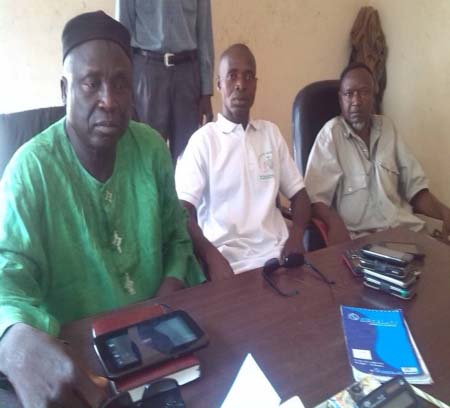 The Director General of Gambia Livestock Marketing Agency (GLMA), Chief Bakary Dembo Badjie, Tuesday paid a surprise visit to most of the butchers' outlets within the West Coast Region.
According to him, the purpose of the visit was to find out whether the butchers had been maintaining the agreed price per kilo of meat, which is D200 for steak and D175 for meat and bone.
Officials from his department accompanied the GLMA director general to the various butchers' outlets in Brikama and its catchment areas, as well as the slaughterhouse in Brikama, West Coast Region.
Speaking during the tour, Chief Badjie, the GLMA director general, said it was necessary for him personally to go round to see for himself what the butchers were selling at the market.
According to him, butchers at most of the selling points his team visited had been complying, by selling at the prices agreed during the last stakeholders' consultative meeting held recently at Abuko.
He emphasized that people should be God-fearing and maintain the actual price, especially in the holy month of Ramadan, "which is a month of caring and sharing."
He challenged the butchers to stick by the prices agreed at the stakeholders' consultation meeting, which was attended by various officials and members of the government and private sector, as well as butchers, dealers, middlemen, businesspeople and consumers.
He commended the butchers for their cooperation, willingness and patriotism in helping needy Muslims to afford to buy and eat meat during the holy month of Ramadan.
He reiterated that meat and bones should be sold at D175 and steak for D200.
The GLMA DG warned that anybody found wanting would be dealt with according to law.
He said there would be no compromise with any butchers found inflating prices of meat to the detriment of consumers.
Butchers should avoid cheating through the scale. "They should be God-fearing butchers," he said.
Mr Badjie underscored the importance of upgrading the slaughterhouse to meet the standards of an abattoir, as well as provide a hand-pump well to ease the burden of butchers at the abattoir.
The West Coast Region field and marketing officer, Gibril Jarju, in his remarks, appealed to NGOs, the government and philanthropists to help to upgrade the facility, adding that an upgraded slaughterhouse would help control and eradicate indiscriminate slaughtering of animals.
WCR Livestock assistant Sheriffo Jawo applauded government for the ban on plastic bag use, saying plastic bags have impacted "negatively" on cattle and small ruminants.
According to him, plastic bags block the animal's rumen and make it difficult for proper digestion to take place.
Read Other Articles In Article (Archive)