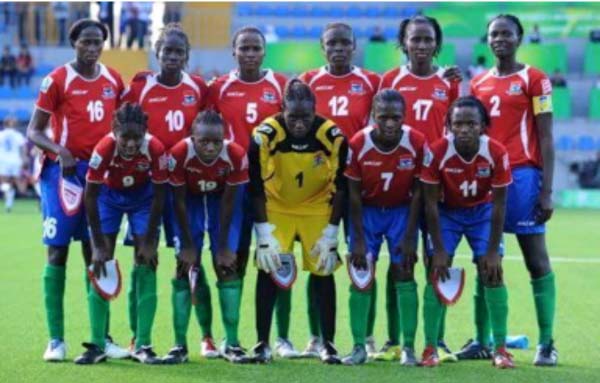 The atmosphere around women football is euphoric as women stand to gain more
The mood around people in women football in The Gambia is ecstatic because the Gambia Football Federation through its partners Gilkock Football Academy, Brufut Branch and Adventure Kicks has written history by convincing Glasgow Girls of Scotland to come for a seven-day football tour.
The tripartite body did not only write history for women football but they have open floodgates sports tourism in The Gambia, something the Gambia Tourism Board (GTB) is yarning to develop.
The tour, scheduled for 18-25 November 2015, will bring to The Gambia close to thirty-five people, thirty-one from Galsgow Girls Football Club and four from Adventure Kicks.
Adventure Kicks is a football development & tourism organisation geared towards creating opportunities for people in football.
A media release issued by Adventure Kicks states that Adventure Kicks is delighted to be leading this tour alongside their partners Gilkock Football Academy Brufut Branch, GFF, the Gambia Women Football Association and the club Glasgow Girls FC.
"This is a historic football tour rich in sporting & cultural exchange and one we hope will lead to further
collaboration," the release stated.
"We see this as the start of our relationship with Gambian football and look forward to working with the GFF & GWFA to develop football within the country.
"We are working closely with our domiciled association, Scottish Football Association and the Scottish Women Football Association to bring about opportunities to develop football links between the two countries and look forward to establishing a lasting partnership," the statement reads.
The release further states that the tour is bringing in one of the UK's leading women's football publications who will feature the tour.
"We can also confirm that FIFA's weekly publication will run a feature on tour as part of their push to promote women's football and FIFA's live your goals campaign," which means the trip will receive befitting media coverage throughout the period.
"The media coverage during the tour will only add up to the number of media presence the tour had already attracted back home," the release said.
They have appeared several times on the Scottish national television promoting the clubs ambitions to come to The Gambia and promoting women's participation in sport.
"We have no doubt that this tour will equally received such media coverage in The Gambia," the release stated.
"Therefore," it said, "while calling on the media for coverage, we also call for support from interested companies for possible sponsorship opportunities for this unique and exciting football tour that geared towards promoting women's participation in sports."
Glasgow girls have just won promotion to the Scottish second tier, the Scottish Premier Two which is equivalent to division one.
They will be competing with seven others for spot in the Scottish Premier One next season. 
Read Other Articles In Article (Archive)