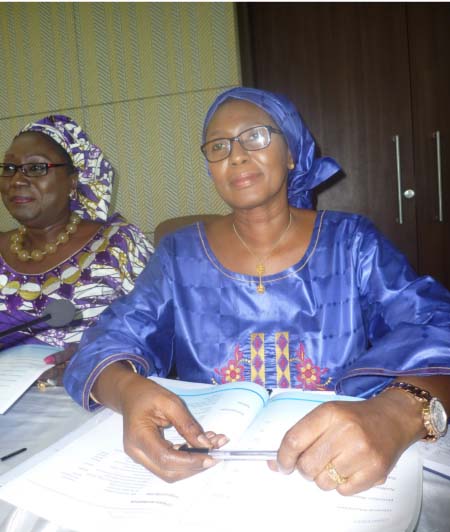 Fatou Mbenga Jallow, Chief Executive Officer of Gambia Investment and Export Promotion Agency (GIEPA), has said GIEPA has continued its facilitation role in the establishment of new businesses and expansion or diversification of existing ones.
The GIEPA CEO was speaking on Wednesday while presenting the agency's report for the year ended 31 December 2013, before the joint session of the Public Accounts Committee and Public Enterprises Committee (PAC/PEC) of the National Assembly.
The report was finally adopted by PAC/PEC.
Mrs Jallow noted that GIEPA's strategic focus is on aggressive promotion of investment and trade in The Gambia, whilst at the same time building on the export base through support to MSMEs.
The key successes registered during the year under review included the development of a 5-year strategy and business plan for GIEPA, roll out of the Systematic Approach to Business Development Services (BOS), training implementation of the tax deposit waiver for business startups, Made in the Gambia Furniture Exhibition, and finalization of the national MSME Mapping and the National MSME Policy and Strategy for 2014 to 2018, she said.
For the year 2013, she added, the agency hosted 8 inward missions related to business from Brazil, Lebanon, Turkey, Nigeria and Romania.
The missions comprised about 24 companies in different sectors including agribusiness, infrastructure, energy, tourism, health, environment, and light manufacturing, she said.
"Approximately 119 leads were registered by the agency in 2013," she said, adding that these were official indications of the desire of a company or individual to explore the investment opportunities in The Gambia.
According to her, apart from the domestic registered expressions of interest, "the leads registered came from Europe, West Africa, Asia and the Americas".
"Some of these have resulted in actual investments and business linkages whilst some remain active and are still being pursued," she said.
Mrs Mbenga also said: "The GIEPA Act 2010 provides for fiscal support to investments worth at least US$250,000 in target sectors in the form of tax holiday through the issuance of Special Investment Certificates (SIC) and Export Processing Zones Licenses (EPZL) for periods ranging from 5 to 10 years, she stated.
The Deputy Speaker, Hon. Fatou Mbye, commended GIEPA for the good management, saying they were impressed with their performance.
"I also commend them for being 97 percent compliant with GPPA [Gambia Public Procurement Authority]," she said.
Read Other Articles In Article (Archive)