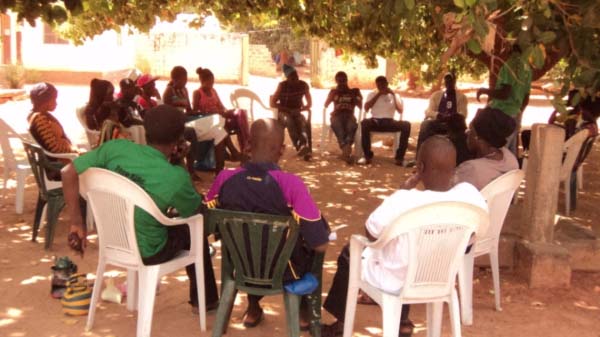 Gambia Family Planning Association (GFPA) and Youth Action Movement (YAM) recently embarked on a three-day exchange visit to Bwiam funded by the UNFPA.
YAM is a strategic movement put in place by GFPA to address Sexual Reproductive Health and Rights of young people (SRHR).
The visit was meant for YAM members from KMC, Bwiam and LRR to come together and discuss issues relating to sexual and reproductive health and rights of young people, share experiences and look for a way forward in addressing issues affecting them.
Gassamanding Touray, GFPA youth coordinator, said the exchange visit was aimed at bringing YAM members together and provide them with SRH and HIV/AIDS prevention information and services.
She said the visit would also provide increased access to SRH and HIV prevention information and services and also reduce the incidence of HIV/AIDS, premarital and unprotected sexual relations resulting in unwanted pregnancies and unsafe abortions, baby abandonment among young people, as well as improve understanding on sexuality issues.
She added that the exchange visit was intended to expose YAM members to SRH information and services, particularly VCT and HIV/AIDS prevention services.
"It is going to create a platform for YAM members to discuss and clarify misconception about reproductive health issues affecting the SRH/R," she said.
It was a very impressive exchange visit with interesting events, particularly the quiz competition held between the three YAM chapters KMC, Bwiam and LRR, she added, saying most of the time they would say KMC was on top but during the quiz all the participants gave the judges tough time, which shows they are all well informed when it comes to SRH/R.
Yaya Touray, branch officer Bwiam, said the exchange visit was for youths to come together and exchange ideas, which were accepted by the GFPA.
He said the UNFPA sponsored the visit because they wanted the youth to come together and share their experiences on reproductive health because UNFPA is now concentrating on the youth.
Mr Touray said their main purpose was to create awareness on reproductive systems of youths and HIV/AIDS.
He said the youth are the future leaders and knowing their reproductive health and rights as well as their own anatomy is very important.
"It will also help them to be disseminating information learned about in their own communities," he said, adding that the most impressive part of the visit was the quiz competition organised to test their knowledge about SRH and demonstrated that all they were taught was well understood by them since all the questions were answered.
Jahe Jamanka, branch officer of LRR, said YAM members from LRR learned a lot from the visit and would disseminate the information and experience learnt with other youths in LRR.
He urged the YAM members to keep up the hard work, saying the youth of today are the leaders of tomorrow, hence they should be capacitated.
Read Other Articles In Article (Archive)