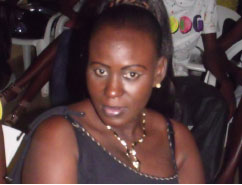 Kebba Masaneh Ceesay, technical director of the Gambia Football Association, accompanied by Choro Mbenga, assistant coach of The Gambia's women national team, left Banjul today for a three-day conference on women's football due to take place in the South African capital of Johannesburg this Friday, Pointsport can confirm.
The Gambian duo are invited to take part in the conference by the Confederation of African Football (CAF) and the football world governing body FIFA, who are the co-organizers of the conference designed to analyse the technical aspects of the FIFA Women's World Cup that took place in Germany recently.
Speaking to Pointsport a day before his departure, GFA technical director Kebba Masaneh Ceesay said: "We are invited to attend a conference on women's football organised by Fifa in collaboration with Caf in connection with the Fifa Women's World Cup that took place in Germany some time ago.
"After every major competition, Fifa and Caf meet with technicians across the globe to discuss the technical aspects of that particular competition in a bid to come out with the best solution for the way forward of women's football," said the veteran football technician.
"We will discuss the way forward of women football during our stay in South Africa and the meeting will also give us the opportunity to have a key study on South African Women's football in order to set up a similar programme for the betterment of women football in The Gambia."
The conference, which runs till November 20, was initially scheduled to take place in the Egyptian capital of Cairo but was moved to South Africa due to the current political instability in that country, Ceesay told Pointsport.
The two Gambian representatives are scheduled to return home on November 22.
Read Other Articles In Article (Archive)