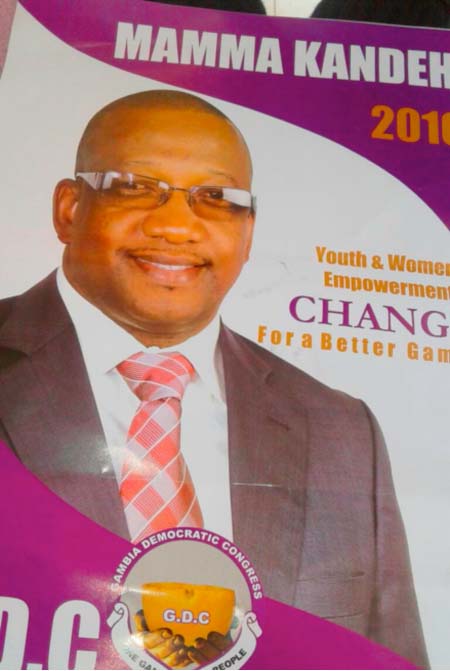 The leader of the Gambia Democratic Congress (GDC), Mamma Kandeh, who took third with 17% in The Gambia's December 1, 2016 Presidential election, has said the GDC has no plans to contest another election.

He made the statement following the announcement by President Yahya Jammeh on Friday on state TV rejecting the election results of the December 1 presidential polls.
According to the press secretary of the GDC, Essa Jallow, "The Gambia Democratic Congress has learnt with dismay the decision by President Yahya Jammeh to annul the 2016 presidential election results.
The move contravenes the constitution of The Gambia, and the GDC had accepted the outcome of the elections, and "that position remains unchanged," he said.
"The Gambian people have elected Adama Barrow in a free, fair and transparent election, which President Jammeh himself initially accepted, and GDC has no plans to contest it," he added.
Mamma Kandeh, according to his press secretary, is therefore calling on President Jammeh to reverse his decision in the interest of peace and stability.
"Your swift decision earlier to concede defeat and your subsequent move to call Adama Barrow to congratulate him was lauded throughout the world," he said.
"We therefore prevail on you to reconsider your decision."
The GDC leader further appealed to all Gambians to remain calm, while the situation is being resolved.
In a related statement on the December 1 poll, the chairperson of the Independent Electoral Commission (IEC) has said the final results of the December 1 election were correct and nothing would "change that", as they could be proven in court, if the matter gets there.
Speaking to Reuters on Sunday, IEC chairman Alieu Momarr Njai said: "The election results were correct, nothing will change that. If it goes to court, we can prove every vote cast. The results are there for everyone to see."
Read Other Articles In Article (Archive)