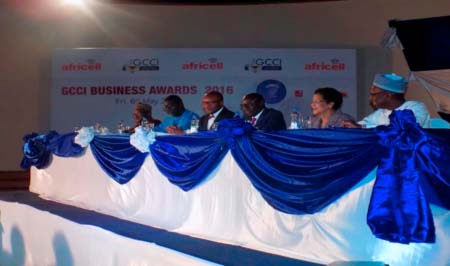 The Gambia Chamber of Commerce and Industry (GCCI) will be organizing its 25th GCCI business awards dinner for this year, which also commemorates GCCI's 50th anniversary in its role as the voice of the business community in The Gambia.

This year's business award, which is scheduled for 12 May 2017, will feature various categories ranging from young entrepreneur of the year, to bank of the year, emerging business of the year, leading business of the year, best business concept and small and medium entrepreneur of the year.
The theme for this year's business award is: "Economic Transformation for Gambian Business Empowerment".
According to the chamber, as the sole representative of the private sector, GCCI has been able to forge various partnerships with Government institutions, donor partners and other chambers of commerce in support of Gambian businesses.
Each year, the GCCI business awards dinner attracts hundreds of prominent businesses, leaders and dignitaries to celebrate the success of businesses that have made outstanding achievements in the core values of business excellence, product excellence, sustainability and commercial success in their respective industries.
The award also recognizes significant contributions made by businesses in the socio-economic development of The Gambia through excellence of service, commitment to their customers, corporate social responsibility, employee recognition, and environmental sustainability.
It would be recalled that over the years, award categories have been considered on the general outlook of the country's national economic priorities and other emerging facets of the economy.
According to Sarata Conateh, director of economic planning and business development, this year's business award will be of a difference, as they are looking forward to this year's event because it is GCCI's 50th year anniversary, and the 25th year of observing the GCCI award dinner, which he described as two key milestones in the business industry.
GCCI is hoping to hold the dinner in grand style, as usual, as many guests from the sub-region are expected to commemorate the event, "but more so it will be a reflection of the new Gambia. We will be extending our invitation to His Excellency the President and the vice president as key partners on this journey".
She said the GCCI had paid two courtesy calls on the President, which were all "positive", stating that the president was overwhelmed by the courtesy calls.
During their meetings, she noted, the President also said: "GCCI is a dynamic and independent voice for business networks in The Gambia. I am a big fan of business ownership and my administration will do all it can to support business innovation and growth in the new Gambia."
Mrs Conateh said GCCI's expectations are high, as partners and, hopefully, would come out and celebrate with them.
"The best part in celebrating is doing it with partners who are part of the journey, those that were there 20 years ago and that can remember where GCCI was and where it is now."
Read Other Articles In Article (Archive)