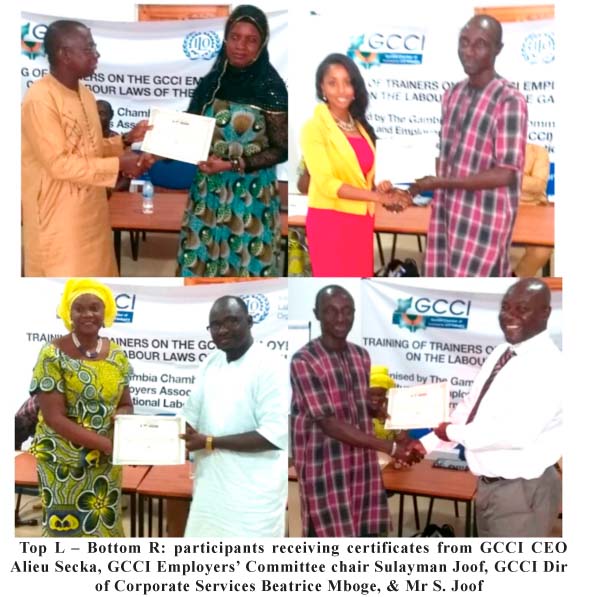 The Gambia Chamber of Commerce and Industry (GCCI), in collaboration with the International Labour Organisation (ILO), Thursday concluded a two-day workshop on the GCCI Employers Guide on the Labour Laws of The Gambia, held at the GCCI secretariat in Bijilo.

The Training of Trainers (TOT) on the Gambia's Labour Laws brought together participants from the private sector, including commercial banks, insurance companies, IT service providers and other micro-small and medium enterprises, business associates, trade unions, as well as GCCI employers' committee members.
The chairman of the GCCI Employers' Committee, Sulayman Joof, in his remarks, said the two-day training session was to enable the trainees to be well-acquainted so that their companies would be aligned with the labour laws of The Gambia.
''It is time to align our companies with labour laws, and with this training session much of your staff will be well-acquainted,'' he said.
Mr Joof further said they are looking to have another batch of trainees, adding that this particular training course was the first of two batches trained and they are looking to train another group of participants very soon.
He encouraged the participants to share and act as advocates in the training of other employees.
GCCI's Chief Executive Officer Alieu Secka, in his closing remarks, said the chamber would continue to provide essential services to its members, including services pertaining to individual and labour matters.
He commended the participants for taking part in the two-day training course, which would further equip them to build a good industrial relationship between employers and employees.
One of the participants attending the ToT, Sainabou Martin, a senior manager at Gamcel, said the training session was "very informative and useful" in that they learned how to create a cordial relationship in workplaces between employers and employees.
Oulimatou Sarr, business development officer of GCCI, in her remarks, said the two-day training course acquainted participants with knowledge of the Gambia's labour laws and Women's Act in order to be diplomatic in solving issues with employees.
GCCI's Director of Corporate Services, Beatrice Mboge, who chaired the function, advised the participants to make the best use of the knowledge gained from the training course, and that as potential trainers they should serve as ambassadors of their employers.
Read Other Articles In Article (Archive)