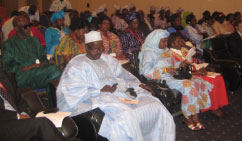 The Committee on Traditional Practices Affecting the Health of Women and Children (GAMCOTRAP) on 29 March 2011 hosted the Inter-Africa Committee (IAC) annual board meeting at the Kairaba Beach Hotel.
Speaking at the ceremony, the Chairperson of TANGO, Yankuba Dibba urged IAC board and the entire NGO community to start thinking of a new paradigm to their governance responsibilities.
"Instead of consolidating existing so-called donors and recipients relationship, going forward, we must begin to explore strategies that facilitate a move from donorship to ownership.
"We must begin urgently to take responsibility and leadership in developing the necessary resources and formulating appropriate strategies that empower southern NGOs to forge mutually beneficial partnerships with northern colleagues, "he added.
Mr Dibba said they should begin to break the culture of dependence and engender one that encourages equity and partnership and lead ultimately to sustainability.
Dibba said that the IAC is a membership organisation founded in 1984 and from its humble beginnings; it has now grown to include national committees in 28 African countries and 15 affiliate groups in Europe, USA, Canada, Japan and New Zealand.
For her part, Madam Mariama Lamizana Traoret from Burkina Faso revealed that after 27 years of operations they have indeed registered significant achievements in the area of FGM.
FGM, she said, is a violation of human rights and the rights of women and children. She noted that they have mobilised actors and sensitised them on the impacts of some of the harmful traditional practices including FGM.
She said that it was agreed by the member organisation to meet twice or thrice at an interval period where they would discuss issues and share reports and views to better shape up strategies to end FGM and other related practices harmful to women and children.
Mrs Kadija Sidibe Aoudou of Mali said it is worthy to have such an organisation like GAMCOTRAP that is working relentlessly to ensure that FGM is eliminated in The Gambia.
She thanked and commended the authorities for their support towards accelerating the fight against FGM and other related activities.
Muhamed Adikali Bangura, founder of Save Humanity Foundation, a local organisation collaborating with GAMCOTRAP in North Bank Region, stated that Gamcotrap is a credible and viable organisation in the country that needs the support of all Gambians.
According to him, his organisation has been operating since 2002 in raising awareness on the effects of FGM and other issues.
Mrs Berhane RAS-Work, executive director of IAF-CIAF Ethiopia, said: "After 27 years we are still facing challenges of resistance and there should be political commitment to FGM.
Dr Isatou Touray, executive director of Gamcotrap, commended all actors in the crusade to end FGM and its related problems.
She also commended Aunty Bijou Peters, who has been very supportive during the days when Gamcotrap was a baby organization crawling trying to stand on its feet.
The forum was attended by personalities from the sub-region, including Her Excellency, Pamela Ann White, US Ambassador to The Gambia.
Read Other Articles In Article (Archive)