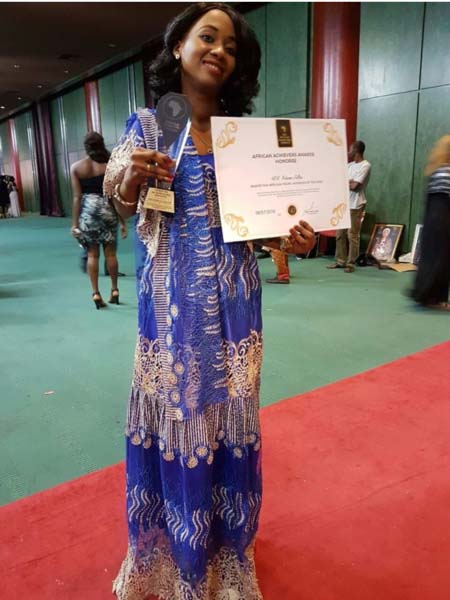 Hon. Habsana Jallow, National Assembly Member for Nianija Constituency, and the youngest Gambian and African female parliamentarian, has been nominated to join the "2016 inaugural list of 100 Most Influential Young Africans" being spearheaded by Africa Young Awards Organization.

In a press release sent to this paper and signed by Prince Akpah, president of the Africa Young Awards Organization, also posted on its official website, the 100 names of the young Africans including Hon. Jallow, who made it to this year's prestigious awards, were listed.
The awards occasion will be held later this month in Nigeria.
Hon. Jallow's nomination to this award also came barely a month when she became the first Gambian to receive such an international prestigious award - "African Young Achiever of the Year" for the whole of Africa, held in Abuja, Nigeria.
When contacted by this reporter over the weekend on her latest achievement, Hon. Jallow said: "I am so glad to be nominated and included in this important and prestigious African award by a Pan-African organization geared towards promoting the role and influence of African young leaders."
She added: "I first thank Allah (God) and my family, especially my husband, for always being with me giving me both moral support and encouragement.
"I was deeply honoured to be part of this year's 100 Most Influential Young Africans and to be awarded later this month by Africa Young Awards Organization."
She said looking at her age and the small country she came from, The Gambia, this was a great achievement for her and the country as a whole.
Hon. Jallow noted that being included in this year's 2016 100 most influential young Africans award was not just an ordinary award; "it is an international award".
She said it is a special honour for her to be part of the prestigious award.
"I want to thank the entire Gambian people, the President and the National Assembly and the people I represent, for the trust and confidence they have in me to be given this award."
She used the opportunity to encourage the young one to join and support each other.
"I am appealing and calling on the youths, especially the women, to come out and work together to support government in their development agenda," she noted, adding that the government could not do it alone.
"I still believe we have a lot of young people in the country who can receive this award, and we should always try to work towards getting to people who recognize our good services to the nation," she said.
Prince Akpah, president of the Africa Young Awards Organization, reiterated the need for the continent to be inspired by its own success stories, and hoped the list will provide a great reference of motivation for most young people to take a step in creating a great future for themselves and Africa.
He said: "Africa Young Awards is the continent's biggest honour for achievers with annual participation from over 140 countries, and has announced its inaugural list of 100 most influential young Africans."
He said the list has representation of 27 African countries and gender equity of 62 men and 38 women with the youngest being 14, considering the age limit of 40.
Read Other Articles In Article (Archive)