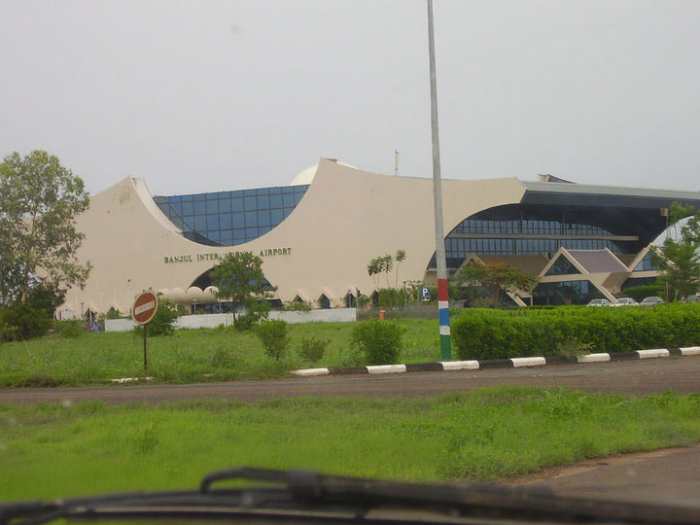 Banjul International Airport has been named among the world's top ten terminal buildings, according to The Guardian Newspaper on Sunday.
The airport wins a prize for its sheer indifference to all the usual clichés and conventions of airport design. True, it goes like many others for something a bit wing-like, but the gratuitous projections at its sides are nothing like the swoops of Saarinen or Piano.
It also goes, for no particular reason, for an arch in its centre with a bigger inverted arch above. A tongue-like canopy then sticks out from the mouth-like arch.
The work of renowned Senegalese architect Pierre Goudiaby Atepa, its main design principle would appear to be to do stuff for the sheer hell of it.
Spain's El prat de Llobaret in Barcelona tops the list, as it treats the airport as an unusual kind of city, with broad urbane avenues, highly polished purplish marble, big glass walls, dignified concrete and ample proportions.
As a result, it is much more relaxing than airports where you feel like a piece of baggage on its way to the carousel. It was designed by Ricardo Bofill. 
The Finnish-American architect Eero Saarinen designed two celebrations of the jet age that reinvented the design of airports. One, the freeform TWA terminal at JFK, has been compromised by later additions, and is currently closed for refurbishment.
The other is Washington Dulles, built in 1962, whose concrete roof, concave side down, hangs like a canvas between rows of angled pillars. It pioneered the idea of the sweeping roof, as a metaphor for flight that has since become a well-worn theme of airport design, while its white, temple-like form also has some of the gravitas of Washington's political monuments.
Barajas, Madrid, by Rogers Stirk Harbour and Partners, is yet another swoopy roof, but the simple idea of lining the ceiling with bamboo gives it a different feeling altogether.
It is soothing, rather than mechanical. Steel struts are painted in all colours of the rainbow, grading from red to violet along the length of the building - a potentially cheesy idea that comes off.
The joyfulness of Barajas compared with the clunkier Terminal 5 at Heathrow (which was designed by the same architects) says much about the way this country goes about getting big buildings built.
The other top designers include Renzo Piano and Paul Adreu, who designede Charles de Gaulle in Paris and Sir Norman Forster who designed Beijing's, Heathrow, terminal 5, UK's Standsted Airport and Chek Lap in Singapore.
Brazil's Santos Dumont in Rio de Janerio came second, followed by Washington's Dulles Airport, Japan's Kansai in Osaka was fourth and Chek Lap Kok, Hong Kong, Barajas Madrid, Charles de Gaulle Paris, Banjul came eighth followed by Changi in Singapore and King Abdul Aziz airport in Jeddah, Saudi Arabia.
The list was drawn by Rowan Moore, an architecture critic. He is the brother of the journalist and newspaper editor Charles Moore. He trained as an architect at Cambridge, but having gone into practice, turned to journalism.
He has been editor of the architecture journal Blueprint, and has written for the evening Standard (London).
In 2002, he succeeded Lucy Musgrave as Director of the Architecture Foundation, leaving to concentrate on journalism full time in 2008. That directorship is now held by Sarah Ichioka. 
Read Other Articles In Article (Archive)