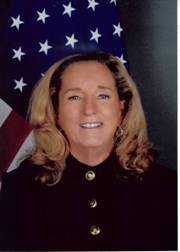 Following a successful two-weeks of intensive training course which covered maritime intelligence, among other subjects, more than 40 officers of the Gambia Navy have been awarded certificates.
The course which also dealt with  non-commissioned officers' leadership, among others, was conducted by a team of US navy instructors on board US HSV-2 Swift which docked in Banjul sea port a couple of weeks ago.
The training was part of Africa Partnership Station (APS), which is a US government initiative geared towards equipping Gambian security outfits and other African nations in a bid to strengthen maritime security.
The visit to The Gambia by this latest US vessel is the final stop after a series of port visits in the Gulf of Guinea to support training engagements under APS, and came after completing APS training engagements with naval forces in Nigeria, Ghana and Benin.
APS is an international security cooperation initiative aimed at strengthening global maritime partnerships, through training and collaborative activities, in order to improve maritime safety and security in Africa.
The vessel hosted instructional courses for Gambian naval forces in the subjects of maritime intelligence, non-commissioned officer leadership, and basic instructors training taught by instructors from U.S. naval forces.
This was followed by a two-week small-boat hull maintenance course, taught at the Gambia Navy base.
Addressing the closing ceremony, the US ambassador to the Gambia, Pamela Ann White, congratulated the participants for demonstrating a high sense of commitment and professionalism during the two-week exercise.
She added that this will go a long way in equipping the Gambia Navy in securing the territorial waters of the nation, and urges them to utilize the knowledge gained and share it with their colleagues who could not attend.
Ambassador White went on to salute the relationship between Banjul and Washington, declaring that the U.S. will continue to support The Gambia, especially in the area of maritime security.
The deputy chief of defence staff  (CDS) of the Gambia armed forces, Brig. Gen. Ousman Badjie, in his statement said "over the last two weeks, personnel of the Gambia Navy participated  in a number of programs which included: small boat maintenance aimed at identifying potential problems before they got out of hand; leadership training for non commissioned officers on the application of principles of learning instructional methods appropriate for classroom and other learning environments; and, maritime intelligence for effective usage of maritime assets to monitor the Gambia's coastline."
Brigadier General Badjie hoped his men had a fruitful exchange of views and ideas that will help them develop a better 'repair' culture, institutional abilities and maritime intelligence gathering skills.
Badjie then thanked and congratulated the instructors for sharing with his men their wide-ranging perspective on management of naval assets, and development of reliable means to obtain information that would be useful for maritime security operations.
The deputy army chief stressed that capacity building is a key component of Gambia armed forces' vision and plans to professionalized and modernized itself.
Brig. Gen Badjie recalled that the Africa Partnership Station through the African Command has over the years been providing, at various levels, training to address the contemporary security challenges facing the Gambia, in particular, and the sub region in general.
"This security challenges include narco trafficking, human trafficking; poaching and other illegal activities in the maritime domain. I would advise that knowledge gained should be shared too. Knowledge will hone your ability   to write, talk and listen. In short, it teaches you how to solve problems relating to your profession," he said.
The course will enable the participants to contribute immensely in reinforcing their constitutional mandate which, Badjie said, is to defend the territorial integrity of The Gambia, and to create a stable and viable economic environment for growth.
Lt. Adam Cole of the US Navy onboard the US HSV-2 Swift said that the participants have learned a lot on leadership; maritime intelligence, among others, and hoped that this training will greatly help the Gambia Navy in the execution of their mandate as seamen.
"The training was great success; both parties learned a lot from each other; Gambia is great country; and the navy is professional," Lt. Cole added.
Read Other Articles In Article (Archive)