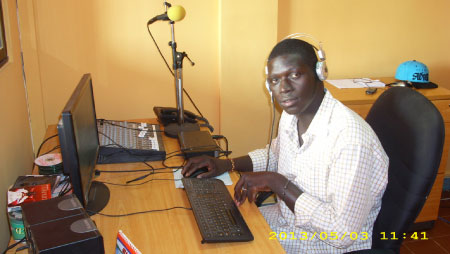 David Jatta, alias David Jee, has worked very hard to produce a rhythm dedicated to children dubbed the 'All One Rhythm'.
The latest move of David Joe, of the Jee Production Label, represents one of his best creative artworks.
The soul reggae rhythm features artistes like Smokey Killer, Silky Chris, Magnificent Joe, Benjamin, Lixen, Jarranka, Raskari G, Sissasi, Gideon, Chris Molita, Jah Messiah and others.
Speaking in an interview with Entertainment on Monday at the point newsroom, David Jatta said the reason he brought the rhythm into fruition is to meet the children's needs and be of help to them, especially those going to school.
"I believe education is so crucial in the developmental process of a nation," he said.
Children are mostly catered for by their mothers; they should therefore not be left out as they are the future leaders, he further explained.
This rhythm, he added, features artistes from across the country, saying it doesn't only include artistes within the Greater Banjul Area, but as far as Farafenni, Jangbang Jelly, Sanyang Madinaba, Kartong, Siffoe and Kitty.
"I am calling on everyone to come and push the project further," he said. "I also call on the NGOs, companies, philanthropists and individuals to support the project to the next level.
"The government is trying its level best in encouraging youths, but it cannot do it all alone; so we should all join hands to see that music goes to another level.
"My dream is to push Gambian music to another level."
All One Rhythm took the producer two weeks to complete. It will be launched soon and 10 per cent of the proceeds from the its launching will be given to Operation Save a Baby while 15 per cent will be allocated for SOS Children's Village.
Read Other Articles In Article (Archive)