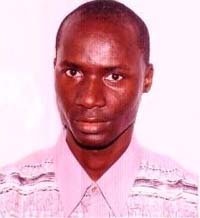 Ebou Gaye, a Gambian writer residing in the United Kingdom has published a new novel, entitled 'Fake Love' with the publisher Author House.
According to details sent to this correspondent by the author, disclosing the publication of the book, the protagonist of the novel, Ya Rose, quit her job in her native country, and traveled to the United Kingdom to seek greener pastures. There, she found life extremely hard, contrary to her expectations. Consequently, she resorted to luring men into relationships, with the aim of manoeuvring her way out of the awkward situation in which she found herself.
Ya Rose is described as a short, slim Gambian lady. She wears a shy, timid, polite, piteous and innocent look that can deceive the most intelligent, sagacious person on earth. Her mother traveled and settled abroad when she was a very young girl, leaving her under the care of her father who died later ... 
The novel further reveals that when he was about to return home, Ya Rose gave him two big parcels of food and drinks, meant for Pa and himself. The parcels were so heavy that he could hardly carry them. He nearly had his arms dislocated, while walking to the bus stop near the house of the Tunkaras ... 
The story further reveals that Ya Rose was looking very uncomfortable during Omar Jobe's narration and comments. At one point, she rose up to leave, but Omar Jobe appealed to her to wait for a while. Hardly had Omar Jobe finished his comments on the last case than Ya Rose fell off her chair, and hit the floor with a bang. She opened her mouth and eyes widely, kicking her legs in the air. After a while, she clenched her teeth and closed her mouth and eyes tightly, lying on the floor motionless like a corpse for about ten minutes. Jatou ran into the kitchen, brought a cup of water and emptied it on her face, with a large quantity of the water entering her nostrils ... 
The book sounds very interesting to read and is multi-theme, touching on marriage, religion, female circumcision, politics, journalism, etc.
Ebou Gaye is a member of the Writers' Association of The Gambia and an alumnus of Cambridge Wolfson College. He attended King Saud University in Saudi Arabia, the Management Development Institute in The Gambia, the University of Cambridge in UK and the Banjul postgraduate extension programme of the University of Limoges, France.
He holds certificates, diplomas, a BA Hons degree and MA degrees in different disciplines. Ebou Gaye has taught General Science, Literature, Islamic Studies, Arabic, French and English for three years.
Besides, he has worked as Administrative Officer with The Gambia government for five years, serving at different ministries - the last being the Ministry of Finance and Economic Affairs.
The author has written over 150 articles on various issues and a novel, entitled "Patience Is Accompanied By Smiles."
Fake Love is his second novel. He won the Outstanding Features Writer Award of the Daily Observer Newspaper of The Gambia in 2001.
Prior to that, he was awarded a Certificate of Appreciation by the Senegalese Students? Association in Riyadh, Saudi Arabia, for contributing articles in its Arabic magazine, Al-amal.
Ebou Gaye served as a member of editorial board of school club magazine, while studying at Gambia High School and King Saud University.
To have a detailed free preview of this attention-grabbing and fascinating book, and to buy copies on-line, you can visit www.authorhouse.com or www.authorhouse.co.uk. Type 'Fake Love' or 'Ebou Gaye' in the box containing 'Title, Author, ISBN' at the top right corner of the home page and click on 'SEARCH'. The book will soon be available for purchase at www.amazon.com, www.barnesandnoble.com and www.borders.com, among other on-line bookstores.
Read Other Articles In Article (Archive)