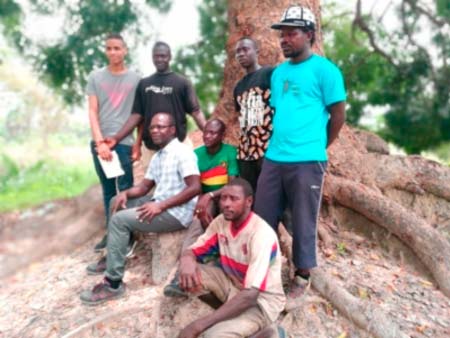 A Gambian based in Germany, Tunko Anusumana Saidy, accompanied by his friend, Lamin Fofana, senior communication manager at GAMCEL recently visited the Nah-Buteh Mahogany Park reserve in Gunjur-Berrending, in Kombo South district of the West Coast Region.

The purpose of the visit was to assess the forest park with the possibility of embarking on a massive tree planting of different types of trees in the forest to attract tourist among others.
The park established since 2006, is home to 40 mahogany trees with an area of about 1500 m.
Speaking to journalists at the forest site, Mr Saidy explained that his association "Nah-Buteh" was founded in October 2015 as a non-profit association based in Dusseldorf.
"We support projects and measures at the Nah-Buteh Mahogany Park in The Gambia," he said.
He said the objective is to protect the flora and fauna, and the sustainable use of natural resources in the environment.
In The Gambia, landscape of flora and fauna are greatly threatened by urbanisation and exploitation of nature, he added.
He posited that the young population do not recognise the importance of a sound environment and the natural resources as well as the development potential of the country.
They do not see any potential in their home country and have the desire to leave the country, Mr Saidy further stated.
"In Nah-Buteh-Mahogany Park, you can experience the beauty and the potential of the natural resources of The Gambia. We show that the country has prospects and a basis for life," he stated.
Environmental education projects are designed to demonstrate a modern and sustainable use of natural resources, he emphasised.
"We have set ourselves the goal of protecting and conserving the natural flora and fauna of The Gambia," he opined.
He also cited that there was always the need to prevent the trees being cut down, and encouraged more replacement and awareness of the culture with the forest and the environment of The Gambia.
He spoke about the danger or the trend in which the forest is losing in the environment.
According to Mr Saidy, there are many development partners or friends that want to come and give support to the park, stressing that the plan is to develop the forest park to a higher standard to better attract tourists and help Gambian youths to benefit from it.
He also spoke about his association's firm commitment to the restoration of the forest, adding that since 2006, they have planted more trees in the park.
He commended Lamin Fofana for creating the partnership between him and the forest manager in order for him to plan more trees in the forest park.
Also speaking, Lamin Fofana, expressed appreciation with the level of commitment of Mr Saidy in ensuring that he gave back to society via the forest restoration through planting more trees.
He hailed Mr Saidy for taking up the bold initiative and called for more support from the Ministry of Environment.
Read Other Articles In Article (Archive)