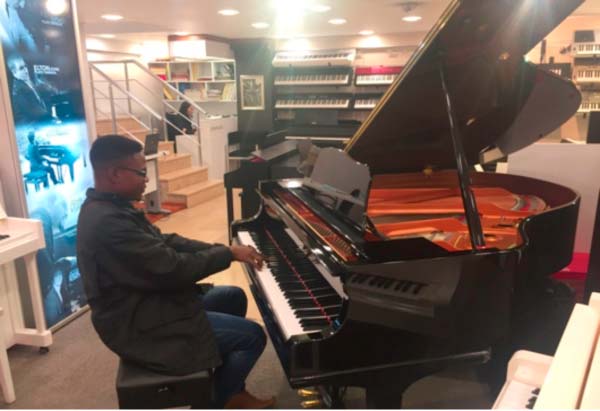 Koollife James Kolawole, founder of Koollife Entertainment, in an exclusive interview with The Point newspaper, has voiced the outcome of a recent investigation and research into why the evolution of the Gambian music and movie industry has stalled for more than a decade.
As a saxophonist, promoter, and a filmmaker he said the common public opinion is that Gambian musicians are unappreciative of the deejays, and that Gambian promoter he talked to said: "when they need our help that is the only time you see them going around for media support."
"Throughout my exploration I was interested as to why there was so much hatred for Gambian music and movies in this nation. I have been to FM stations, GRTS, Gambia business centres, shops, offices, restaurants, taxi garages etc., and all over the place I go a good number of Gambians don't have much passion for Gambia music and movie." Koollife said.
 "Gambians I have spoken with said it's not because foreign music is superior to Gambian music, but Gambia artiste lack vibes that can make them get up and move. A Gambian Deejay from Hot FM 104.3, Deejay Smith, said Gambian artiste need to show them respect and appreciation because non-Gambia artistes hire any DJ to work for them directly, and this is the reason why Deejays play foreign music most of the time on our shows; because our audience appreciate us than our so-called Gambian artistes, our radio listeners sometimes send us gifts and cash as a sign of appreciation, which our own Gambian artistes don't do. They come around only when they need promotion," Koollife continued.
Majority of Gambians ladies, said Koollife, told him "we want Gambian beats that will make us to remove our high heel shoes; we want our Gambians artiste to do music that will make us dance and jump up like never before."
One of the best, Aquarius DJ 'S "Shadow", said to me, "Koollife Gambia artistes need to respect themselves and take up challenges from Nigeria and Jamaica."
Mr Koollife then continued to highlight the contribution of the media in his research.
"Some Gambian newspaper editors said most Gambians are already tuned with Nigerian afro vibes and Jamaican vibes, and it is going to be hard for Gambians to start listening to Gambia music or watch Gambia movies if our Gambian artistes and actors are not showing promoters real appreciation.
"If those artistes are ready to take up the challenge and do music that is similar to Afro rhythm which is leading in Africa now, then Gambians will start falling in love with Gambian vibes."
In conclusion, Mr Koollife said: "Gambia artistes and actors must develop the spirit of gratitude towards the promoters and any media outlet that has contributed to their success. The media has the power to determine where the entertainment is, nation locally and internationally.
"It's time for all Gambian artistes to work together with the Gambian Deejays, FM stations, the newspapers and give them their fair share of praise and profits of whatsoever is made in the music industry. This will also inspire them a lot to do more for Gambian artistes."
Read Other Articles In Article (Archive)