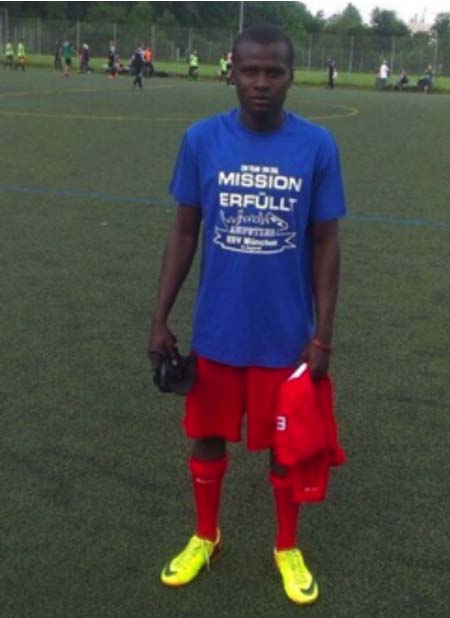 Ousman Nyabally, a 16-year-old Gambian, and native of Saruja village in the Central River Region, who travelled to Germany through Italy as an illegal immigrant fondly called 'back way journey', has already made a reputable name for himself as a starlet footballer after helping ESV Munich side to be the 2015 U-19 league champions in Germany thus promoting them to the next level.
A young Gambian, determined to play for his country in the future, said 'back way' journey is a mission for him and a greater part of that mission is to become renowned and better player for his country.
In a joyful conversation, he expressed happiness for helping his side to become the 2015 champions, saying that achievement has came out of concerted efforts by all players.
Although he joined the team in the second half of the season, his versatility on both striking and midfielder role has made him part of the team's starting eleven.
"I have started playing in the second round of the league because my football pass was not done. I have played all the games in the second round and scored 3 goals with 4 assists in the league. The league comprises ten teams with home and away system. We played 19 games without a single defeat," he said.
"I wish to take this opportunity to thank my team coach Omid Torabi and my team mates. I am in the team with one Gambian brother Ousman Badjie."
Securing this title means Ousman and his team have been promoted to the next league competition.
His words: "I don't forget that I am a Saruja born and I will be very proud and honoured to play for my country one day in the future - Insha-Allah."
Regarding his migrant status, Ousman pointed out that for the time being they as migrants are under the German government or authorities, whom he hails for their hospitality.
Read Other Articles In Article (Archive)