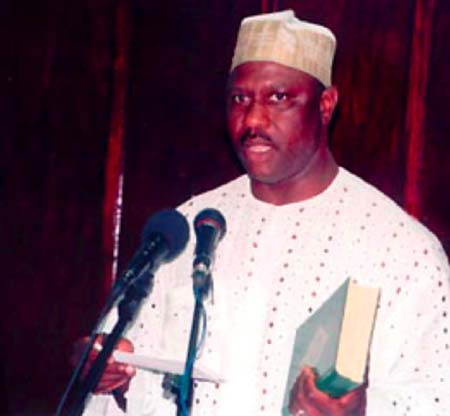 The Gambian Ambassador to the United States of America, His Excellency, Sheikh Omar Faye, said that the President of The Gambia, "recognizes that as a nation, it is our duty to collaborate with well meaning nations such as the United States of America, to help combat the vices of retrogressions for the security of the world."
The Gambian Ambassador, who was referring to the ills of global terrorism when he made these remarks, was speaking at the White House earlier Tuesday where he presented the letters of credence by which, His Excellency, President Yahya AJJ Jammeh Babili Mansa, accredits him as Ambassador Extraordinary and Plenipotentiary of the Republic of the Gambia to the United States of America to United States President Barack H. Obama.
Ambassador Faye continued:  "It is on this premise that the Government of The Gambia is vigorously fighting corruption, poverty, illiteracy, drug and human trafficking, and organized crime to ensure a natural global security."
Dilating on US/Gambia relations, Faye reminded President Obama that the two countries have been bonded for a long time citing that Africa Americans have so long been tracing their ancestral roots to The Gambia.
Ambassador Faye added: "The Gambia cherishes the noble values we share and the constant dialogue and interactions will no doubt bring about greater mutual understanding as The Gambia marches on the road to socio-economic development."
He also underpinned that The Gambia is ready and willing to bring to the people of the United States of America the true precepts of beautiful Gambia, its people, their culture, and values as well as their goals and aspirations in forging a new destiny for The Gambia.
He added that his appointment as Ambassador was to consolidate and enhance the already excellent relationship between the two peoples and two governments, for which he pledged his utmost.
Ambassador Faye also conveyed the personal greetings of President Jammeh to President Obama.
On the instructions of his Principal, he conveyed profound gratitude to the US President and the First Lady, Michelle Obama, for the warmth and courtesies accorded President Jammeh and First Lady Zineb Jammeh at the US-Africa Summit held in Washington DC last year.
Speaking following the ceremony, Ambassador Faye thanked President Jammeh for the confidence bestowed in him to serve as his representative in the United States.
He called it an honour of a "life time" and reassured the President that he will live up to his expectations worthy of an Ambassador.
Speaking on the Presidential prerogative of mercy which was doled out to some three hundred inmates, Ambassador Faye said the President was not only exercising the powers vested upon him by the constitution, but also wanted to clear the way and lay a foundation for a new beginning, adding that, " if President Jammeh has challenged all to come together to build a more prosperous Gambia, he called on Gambians all over the world to put differences aside and heed to the bigger picture, our Motherland, the land of peasants and farmers where every smile is genuine."
Read Other Articles In Article (Archive)