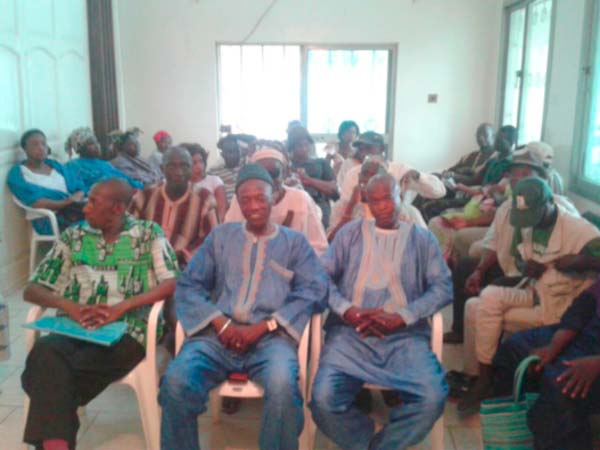 The Gambia Craft Market Federation yesterday through the National Youth Mobilser visited the APRC Bureau in Kanifing to affirm their support, loyalty and commitment to the APRC party and leader.
The federation including members from different craft markets went to show their appreciation of what the President had done for them, since the inception of the AFPRC and APRC government.
They also mentioned the developments registered since the Second Republic, describing the President as a leader with a difference and "the only President that needs to be trusted".
During the meeting with the National Youth Mobiliser, Hon. Babou Gaye Sonko, they promised that come the December election they would come out in large numbers to cast their votes for the APRC leader.
Speaking at the meeting, Pa Mbye, president of the federation, said: "We are here today to come directly to this office to show you who we are because our efforts are not noticed by Gambians."
He said they will answer to any call of the President from anywhere in the country they are, and will take part in any activity of the President.
According to Mr Mbye, the craft market had minimised youth migration as they employ youths to engage them in something useful which would benefit them.
On behalf of the federation, he pleaded at the APRC Bureau to pass the message on to the President. "We are behind the APRC now and will forever be," he declared.
Fatou Jatta from the Fajara Craft Market expressed similar sentiments, saying they had contributed immensely to the development of "this regime, yet it's not noticed".
"We are here to complement his efforts and show that we are behind him," she told the gathering.
Hon. Babou Gaye Sonko thanked the federation for passing through his office, adding that the ministry is aware that vendors are contributing their quota to the socioeconomic development of the country.
He said they could not be shown in numbers, but their contribution is numerous, and surely recognised by the ministry.
He said the vendors should take their rightful steps, because as a craft market they have a role to play in national development.
He urged them to be more generous to the guests who come, because "they are the people who directly interact with the tourists", saying the tourism sector is another source of income for the government.
He further stated that it should be their collective responsibility to sell the good image of the country by treating tourists well, so that when they return to their countries they would be eager to come back to The Gambia.
Read Other Articles In Article (Archive)