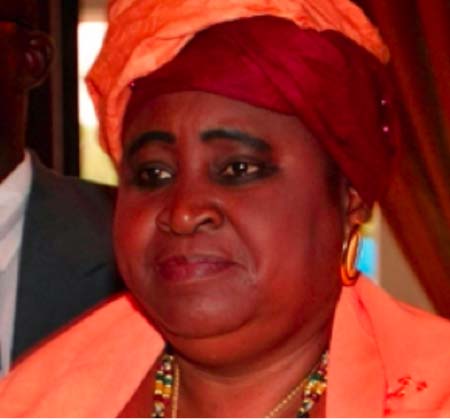 The Vice President and Minister for Women Affairs, Isatou Njie Saidy, has said The Gambia is a peaceful democratic country, and attracts investment in all sectors of the economy ranging from agriculture, to tourism, construction, fishing and other sectors.

Gambian women are enterprising and very hardworking, she added.
The Vice President's statement was delivered on her behalf by the executive director of the Women's Bureau, Binta Jammeh Sidibeh, at the disbursement of interest-free loans to 100 Gambian widows.
The loan was provided by the Women Advancement for Economic and Leadership Empowerment in Africa (WAELE) The Gambia office under the Women Empowerment Project.
The country office would manage the fund in partnership with the Gambian Women Finance Association (GAWFA), and the Women's Federation would facilitate for more women around the country to benefit from the Women Empowerment Programme.
The Vice President mentioned that Gambian women are engaged in all income-generating activities, and hold prominent positions in the public and private sectors of the Gambian economy.
They are trustworthy and very productive, she said.
However, she added, they are faced with challenges such as access to finance, which is one of the most important elements, and access to productive resources to transform their business ideas and initiatives into reality.
"The National Women's Council (NWC) is the highest advisory body to Government on all matters concerning women and gender."
The National Women's Council acts as a forum for women, while the Women's Bureau acts as the secretariat.
The Bureau's mandate is to collect and disseminate information, and ensure that gender is mainstreamed and institutionalised at all levels by way of training, sensitisation and advocacy.
The Bureau also assists the NWC in looking for trends and creating ties with other institutions on the socio-economic and political front, reviewing bills, laws, programmes, new technologies, policies and giving out pertinent information for the country's leading decision-makers.
The National Coordinator for WAELE and the chairperson for GAWFA, AduLette Sey, while speaking at the launching ceremony, said GAWFA being one of the partners of this project has been involved in promoting women's empowerment through access to suitable and affordable finance and leadership.
She added that the association was established in 1987 by individuals and women groups, with inspiration from the Women World Banking and support from the government.
The Association was granted license by the Central Bank as the first micro-finance Institution in the country.
GAWFA contributes significantly to women's empowerment through micro-finance, she added.
With GAWFA's vast experience in this sector, and the strong commitment of the National Women Council in women's empowerment, it was a step in the right direction for partnering with the various institutions in providing interest-free loans to 100 Gambian widows, she said.
"I have no doubt with this holistic programme, it will achieve the desired results," she added.
Read Other Articles In Article (Archive)