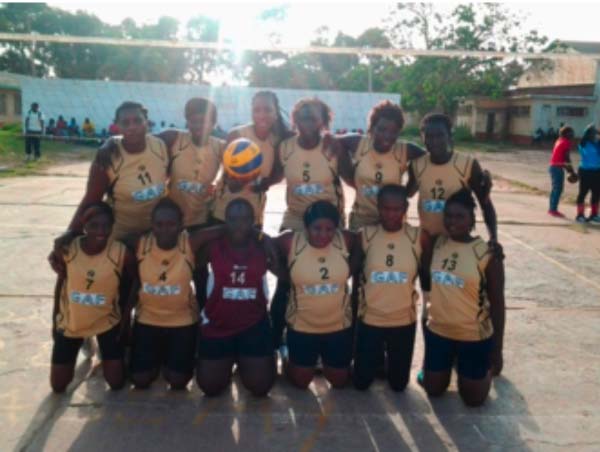 The Gambia Armed Forces' female team beat Interior 3-0 in a tough game played last Friday at the sellout Gambia High Lawn.
GAF recorded its victory at the expense of Interior through GAF's Abie Kujabi and Mariatou Gitteh as top scorers.
Mariama Ginadou was perfect on her spikes at Interior's end; however, middle blocker Abie Barrow was not at her best on the net, thus GAF's attacking competence was guaranteed throughout the game.
The poor blockings and unit receiving from the hosts gave GAF the advantage to secure a 25-17 set win.
Interior's coach Ebrima Nyass later implored some attacking changes to confuse the soldiers and earn a credit.
Jama Gai Barrow and Fatoumatta Ceesay were all silent in attacks and blocks and the visitors assuredly got the second set 25-18.
Interior's technical changes nearly gave merit in the third set; and the soldiers were confused in the new approach and completely lost their rhythm afterwards as the police secured a comfortable lead.
Later in the game, the visitors narrowed down the lead to shelter a 25-23 advantage to the dismay of all the spectators and ultimately extended their lead on the standings.
Earlier on the same day, policemen played host to the visiting GAF at the same ground.
The enthusiasm and morale of the young police side gave GAF a tough challenge in the first set. Youngster Abdou Manjang and brilliant teenager Sulayman Hydara enabled the police to a rousing first set win 25-14.
It is always hard to beat Gaf under 15 but that record was finally broken by their closest rivals in the derby match.
Setter Hydara entertained the spectators with his technical passes with the hope of beating Gaf.
Sgt Saikou Omar Bargie filled in some new players to salvage a point, and despite Interior's home advantage the experienced GAF team leveled the matters to set apiece in 25-13 points.
Afterwards GAF capitalised on their efficiencies to grab the 3 points in 25-23 in the second set and 25-23 in the final set.
In the other results for the week, Brikama women team lost to Gambia Fire and Rescue Services 3-0 25-15, 25-15, 25-20 whilst the Brikama men team defeated GFRS 3-0 as well 25-17, 25-22, 25-22 respectively.
On Sunday Old Jeshwang continued in their fine form after beating minnows Prison 3-0 (25-8, 25-17, 25-12), and YMCA lost to Serrekunda East OlympAfrica 3-0 (25-22, 25-10, 25-20).
Weekend results for Men:
Interior v GAF 1-3 (25-14, 13-25, 23-25, 23-25)
GFRS v Brikama 0-3 (17-25, 22-25, 22-25)
Jeshwang v Prisons 3-0 (25-8, 25-17, 25-12)
SK East v YMCA 3-0 (25-22, 25-10, 25-20)
Weekend results for women:
Interior v GAF 0-3 (17-25, 18-25, 23-25)
GFRS v Brikama 3-0 (25-15, 25-15, 25-20)
Read Other Articles In Article (Archive)