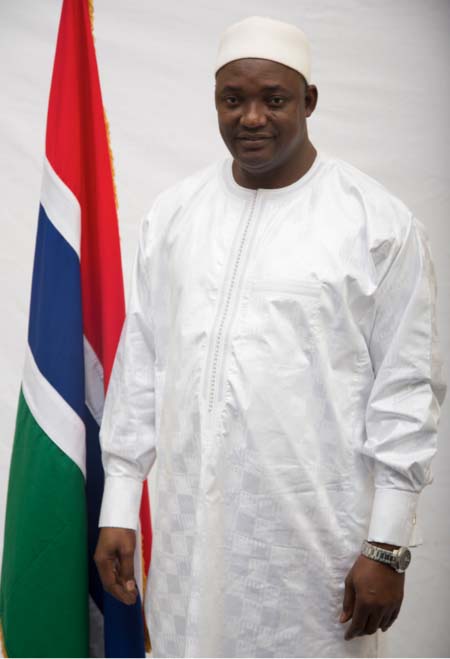 Chinese products now have an unhindered access to the Gambian market with the free trade agreement signed by the governments in Banjul and Beijing.

"I am proud to announce that my Minister of Trade has since signed a letter of agreement with China for duty free trade between our two nations," President Adama Barrow said yesterday at his maiden state opening of the National Assembly.
"This will remove the need for costly trans-shipment of Gambian exports to China through a third country," he said. "It will also make our goods more competitive, and boost our export potential to the world's largest market."
The Gambia National Assembly had ratified the World Trade Organisation trade facilitation agreement.
The Gambian leader, himself a businessman, said this agreement would make The Gambia a more attractive export destination for its trading partners.
He said Gambians' exercising of their democratic right at the December 2016 presidential election "ushered in a new Gambia that is more open to the world".
"We now have a country that will benefit from greater openness through international trade and tourism," Barrow said.
"Since my inauguration, it is clear that the world appreciates The Gambia and wants to engage with us. We have already seen an increase in the volume of cargo at the port of Banjul as well as a rise in vehicular traffic using the ferry services," he said.
"Furthermore, there has been a clear boost in the flock of new investors exploring opportunities in our country."
A strategic partner
The Gambian leader said with the coming of the new government, relations between The Gambia and Senegal have been transformed positively.
Barrow said Banjul and Dakar now meet as strategic partners who recognise the mutual benefit of closer cooperation.
"Within the first 100 days of our period in office, our countries signed several key agreements on defence and security, tourism, fisheries and consular assistance," he said.
"As a small economy, The Gambia has much to gain from more efficient trade across our borders with Senegal and beyond."
2017 and beyond
The Gambian leader also said the government has got a "lot to do in 2017 and beyond and as "I have always said, this is going to be a government of action".
"Our immediate priority is to fix the continuous energy problem as well as the broken economy, unify the nation, improve health and agricultural sub-sectors, end the country's isolation and introduce robust institutional, electoral and constitutional reforms in line with our new democratic principles that will respond to the realities of our time," President Barrow said.
"This has to be done in tandem with reforms in the Civil Service and security sector as well as State Owned Enterprises."
Justice
While the government has restored key democratic institutions, the pursuit of justice remains a high priority for the Barrow-government.
"Indeed, we still have a lot to do despite the progress made so far," the president said.
Over 500 prisoners have been pardoned as part of the reform the prisons reform project which includes plans to decongest the prisons by releasing political and other deserving reformed prisoners.
Barrow paid tribute to "the gallant Armed Forces", who he said, have been receptive to the normalisation of their role in the state, and have conducted themselves with maximum professionalism.
"To ensure that our military remain effective and professional, we plan to set up an infantry centre and school, as well as a military academy to train our officers and other personnel in all aspects of military science," he said.
Read Other Articles In Article (Archive)