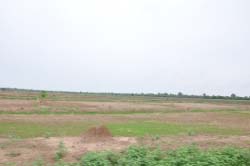 Director of Forestry Abdoulie Sanneh has expressed concern over the spate of the deforestation in the North Bank Region, especially.
Director Sanneh was moved to express concern by the vast deforested lands he saw in the Badibous.
Deforestation in Badibou was manmade, not natural, says Dr Sanneh, complaining that people cut down the trees for farming purposes and end up having no trees in the farmlands.
He called on the people in the area to join hands with his department to nurture the re-forestation process.
He said his department was carrying out a lot of sensitisation programmes in Badibou on the need for re-forestation, planting and fighting against bushfires.
"We need our forest cover if we are to survive, be it in agriculture or global challenges on climate change or trying to restore healthy forestry cover for animals and domestic needs like timber and so on," he said.
Mr Sanneh said last year his department conducted a tree planting exercise in Badibou with a group of people led by one Momodou Lamin Kinteh but "the turnout was very poor because the villagers around Farafenni did not turnout" compared to the population of the surrounding villages in the other areas.
"My department is mandated to protect and conserve the forest cover of this country but the participation of the stakeholders, particularly the villagers, is also very important and if you go to an area to plant a tree or asked somebody to join you in planting a tree, if the person is not interested, the tree would not be protected," Director Sanneh said.
He called on the Badibunkas to embark on a massive tree planting exercise in their areas like what is happening in other regions such as in West Coast Region, where mangrove trees were planted in the areas of the Brumen Bridge and other parts of the region.
He said: "Forestry department, we will never rest, we will continue to collaborate with our partners like local communities, security forces and NGOs and NBR is very low in planting trees and if the commitment of the local communities is there we will succeed 99 %."
President Jammeh even recommended that tree planting should be conducted in open areas this year, he said while thanking the President for enhancing his efforts.      
According to Mr Sanneh, since in the early 80s his department has been supplying Malhina sterms and other types of seedlings to the villagers across the country, particularly in Badibou; a case in point is the PWIAMP Project.
"The people in the area should take ownership of the trees planted in their areas," he said, adding that the aim of government is to make sure that at least people get what they want right at their doorsteps, which is why his department is crossing all the way to Badibou to sensitise them to plant trees in their surroundings so that they can make best use of the exercise.
In conclusion, he said: The effect of deforestation cannot be quantified. If the soil is eroded, soil fertility would not be their and bumper harvest would also not be realised; that is why government is taking strong stance in the remaining forest cover in Niumis, so once the soil fertility is exposed it will affect our livestock and agriculture and even climate change." 
Read Other Articles In Article (Archive)