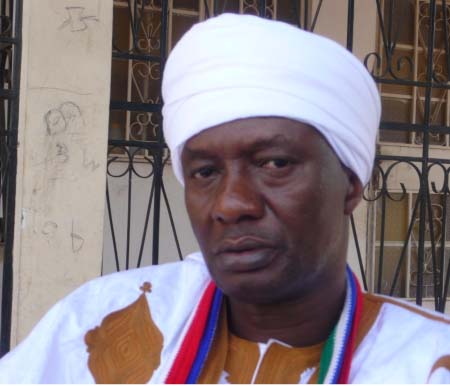 A total of 40 bulls, 900 bags of 10kg sugar, 600 bags of 50kg rice and cartons of dates were distributed among 39 settlements across The Gambia; the bulk of the items went directly to the Fonis.

The items were distributed by Modou Turo Darboe through his Vision Development Foundation (VDF) yesterday at Abuko Abattoir, where Imams, Alkalos, National Assembly members, representatives of beneficiary communities gathered to each take away a bull, and other consignments to share with their communities.
Of the 40 bulls distributed, 6 were assigned to the districts in Foni, and each of the military barracks of Yundum and Fajara, Department of Prisons and the Police equally benefitted same.
VDF officials said the latest exercise costs them more than D1 million and the gesture was undertaken in recognition of the values of sharing in the holy month of Ramadan.
Speaking on behalf of recipients, NAM Amul Nyassi, thanked VDF for the gesture, saying it will put large smiles on faces of the beneficiaries.
Nyassi said the distribution was not the first time that VDF intervened in their region of Foni but this year's witnessed a double of what used to obtain in preceding years.
Governor of West Coast Region Ebrima Mbalow said he was humbled and honoured to be part of the exercise.
He said he had been a distant observer of the works of ModouTuro Darboe and the VDF, and now that he is finding himself in the centre of it; he appreciated it even more as a form of Islamic Zakat.
Majority leader of the National Assembly, Kebba KK Barrow, thanked the NGO for the support to the poor.
He said coming from the NGO world, he has been working with VDF for over 15 years and is proud to consider it as one of the best not-for-profit NGOs in The Gambia.
Spokesperson of the VDF, SaihouFofana, urged beneficiaries to continue praying for health and wellbeing of their sponsor and CEO, ModouTuro Darboe.
He said their works touched on diverse grassroots activities and none of them is geared towards profit-making.
Read Other Articles In Article (Archive)