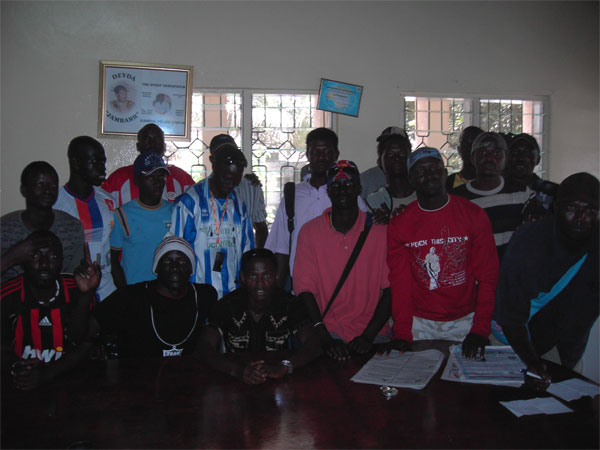 The strike action by employees of Palm Beach Hotel on Tuesday has reportedly galvanised the management of the hotel to terminate the services of those involved in the Tuesday protest.
After receiving their salary arrears of over four months, a number of staff were sent home after being issued what was deemed by the management as a redundancy letter. The act is considered by those affected as high-handed, tantamount to a backlash to their Tuesday action.
The Point's no.2 Garba Jahumpa Road office was yesterday virtually overwhelmed when the aggrieved staff stormed the paper's newsroom to vent their dissatisfaction.
In a three paragraph letter signed by the hotel's Human Resource Officer and issued to all the affected staff, the management of the hotel expressed its appreciation to the services rendered by the said staff but expressed regret to have had to terminate their services.
"We have come to the end of the tourism high season of business, which has consequently reduced the sales and profitability margin of our company and a corresponding increase in our operational and overhead cost.
"Management therefore wishes to inform you that your services have been highly appreciated, but regrets to have your services redundant," the letter indicated.
"However," the letter went on, "Management would consider your services at any point in time whenever situation deems it fit."
In response, the aggrieved staff denounced Management's decision, saying that they have been already sacked and replaced by some other staff from Badala Park hotel.
"I have been working here for five years nine months now but I have never received a redundancy letter. So the Management's decision is that they have sacked us indirectly. We have not done anything wrong. We are just claiming for our rights and that is our four months salary," said one of the affected staff.
A house-keeper who was also issued a letter, said the situation is not new to him as it has been going on for quite a long time now. "Lai Mboge (manager) has not been paying his staff for quite a long time now. This has been going on for many years," he said.
"I don't know what is the essence of his trip to Mecca. He treats his staff very badly. Even to rest on public holidays is a problem. We have not even benefited from the recent salary increment by the President. We want to meet and sit with the President and discuss this problem with him," said another security guide.
Another angry staff said: "Enough is enough. We have been suffering for many years in this hotel. How can you employ someone without even issuing him with an appointment letter?"
"Some of us have been working here for more than five years now but even to apply for a leave is a problem because if you do, the management will in turn issue you with a redundancy letter".
When contacted, Mr Madani Baldeh, Human Resource Officer of the hotel, who himself signed the letters, said the management's decision to issue redundancy letters to some of its staffs has nothing to do with the Tuesday commotion.
According to Mr. Baldeh, it is a normal scenario that every end of season, hotels do issue redundancy letters to reduce some of its staff for a period of time or so.
"Everybody knows that this year's season has been a very lean season for the tourism industry," he said, adding that it is not the management's wish to sack any of its staff.
"We just ask them to sit for a while and whenever we need them, we will call them back," he explained.
Read Other Articles In Article (Archive)