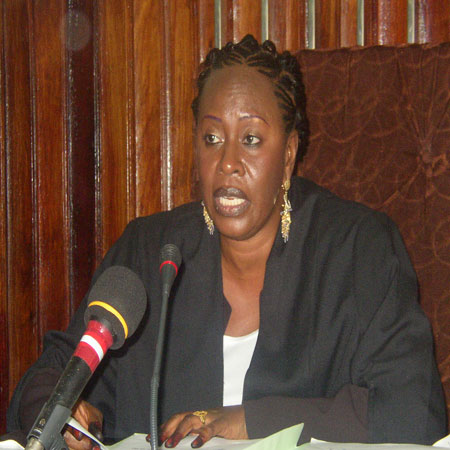 Honourable Fatoumatta Jahumpa Ceesay, former speaker of the National Assembly and executive chairperson of Family Rights Advancement and Protection (FRAP), has spoken about her recent appointment as a member of the board of governance and the national President of Africa Women Foundation for Nation Building.
She said the WINB's mission is to create avenues for identifying and trying to raise and support women leaders in nation building across Africa.
"It is a pan-African Women Foundation that likes to work and provide a balance scorecard on political leaders, corporate executives because they are also important in getting the women to take up leadership roles," she said.
FJC added that she was nominated by Nigeria, which was accepted. They later wrote to her formally informing her of her appointment as a member of the board of governance and national President.
She disclosed that the swearing-in ceremony would take place in June, after which the Gambia Chapter will be set up.
Hon. Ceesay said the organization is so far in Ghana, Nigeria, South Africa and Ethiopia, the home of the AU headquarters.
She said she has also been charged with the responsibility of trying to cope in the Francophone-speaking countries, with her experience as deputy speaker of the ECOWAS parliament, to bring onboard Francophone countries.
She said by next year The Gambia chapter will be set up and they would try to involve Senegal and Mali.
Speaking on having the chapter in the country, Jahumpa Ceesay said they would try to work with key ministries, such as the Ministry of Women's Affairs, being overseen by the Vice President, Dr Isatou Njie-Saidy, who according to her, is an activist and advocate of women and gender.
She said they would receive the support of the Vice President, who always opens her doors to issues of women advancement and empowerment, adding that the other department they would be working with closely is the Women's Bureau, whose executive director is also a gender activist.
She revealed that they would work also with other civil society groups or organizations dealing with the advancement and empowerment of women and TANGO.
The organization has a lot of avenues for women because there are women leaders in Africa who have been speaking on what has been going on around women issues, making reference to the talk of the Belgium Platform of Action at the international level and, on the local level, there is the constitution put up by President Yahya Jammeh - who is the number one advocate of Gambian women.
They would also be doing evaluation and monitoring because "whatever you do, you have to evaluate it in projecting women's role in nation building", she added.
She said they would also engage in peace building in places where wars have ended, to bring women affected in those areas back to their social status.
On how she feels about the appointment, she said she was very happy and would like to thank President Jammeh for nominating her to go to the National Assembly where she had the chance to go to ECOWAS and become the first female to be ECOWAS deputy speaker, which gave her the chance to travel throughout the world, especially in the sub-region during the war on Ivory Coast, to where she led a delegation on peace keeping.
She said being the first female parliamentarian to head the largest group in the Commonwealth Parliamentary Association also gives her the exposure as well as making her belong to other regional and international organizations.
She thanked her parents, family, friends and women of the country and her peers in the ECOWAS Parliament for trusting her and being behind her.
She also said The Gambia chapter will be in the country for all regardless of political, religious or ethnic backgrounds, while calling on all to support and pray for her.
FJC's appointment letter to this international duty reads:

On 6 March 2014, the Management Committee in consultation with the Board of Patrons WINB met putting into consideration your unmatched Leadership qualities and approved your nomination to be a member of the Board of Governance and the National President of AFRICAN WOMEN FOUNDATION FOR NATION BUILDING (WINB) The Gambia chapter.
WINB's mission is to create avenues for identifying, raising and supporting women leaders for inclusion in nation building across the nations of Africa.
WINB is the Pan-African Women Foundation that will provide a balance scorecard on Political leaders, Corporate Executives and all other leaders involved in Nation Building.
WINB has her presence in five African countries, namely Nigeria, The republic of Ghana, Ethiopia, The Gambia and South Africa, headed by an International President, Bukky Bello Jaiyesimi a Pan-Africanist and a multi international Award recipient with passion for encouraging, evaluating, advancing and projecting women's role in respect to Nation Building.
Read Other Articles In Article (Archive)