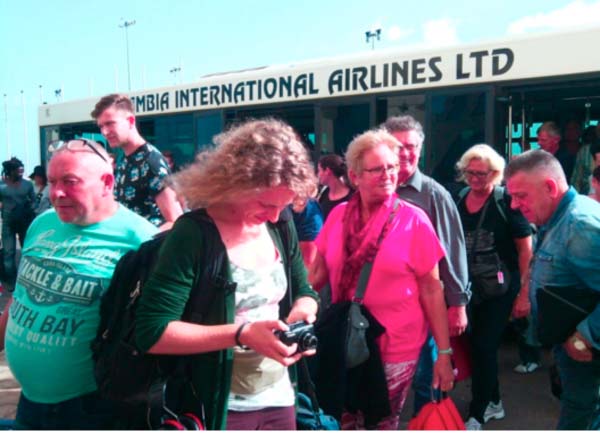 The first tourist flight, carrying 154 tourists, chartered by the Corendon Airline CND511 Friday evening landed at Banjul International Airport.
The tourists were received on arrival by officials of the Ministry of Tourism and Culture, the Gambia Tourism Board (GTBoard) and other senior government officials.
Speaking to journalists shortly after the aircraft landed at the airport, Kodu Jabang, deputy permanent secretary at the Ministry of Tourism, said the arrival of the flight marks the commencement of the 2015/16 tourist season.
She noted that last year's tourist season was full of challenges due to the Ebola outbreak in other West African countries, but "the outlook for this season is quite positive".
"We are receiving the first flight in September, which is a promising for this year. The outlook is quite positive, and we are optimistic that it is going to be a great season," DPS Jabang said. "A lot of efforts have been made for the past two months before the actual start of the tourist season."
She disclosed that about nine flights are expected from Holland and eight from the United Kingdom.
Mrs Jabang said a lot of efforts have been made by the Civil Aviation Authority, as well as the GTBoard officials in ensuring that the arrival of tourists is well coordinated.
She expressed gratitude for the efforts of the tourism fraternity, because "a lot of developments" had been taking place within the tourism area.
"To fully achieve tourism development, we have to address the challenges within the tourism area so that we can achieve the vision and aspiration to transform the country into tourism haven," DPS Jabang said.
Abdoulie Hydara, director general of the GTBoard, said this year's tourist season is promising thanks to the help and collaboration of the Ministry of Tourism.
"I have confirmed between 24 and 27 flights (would be coming) for this year's tourist season," he said.
Mr Hydara said the losses incurred in the 2014 tourist season would be recovered in the 2015/16 season.
Read Other Articles In Article (Archive)