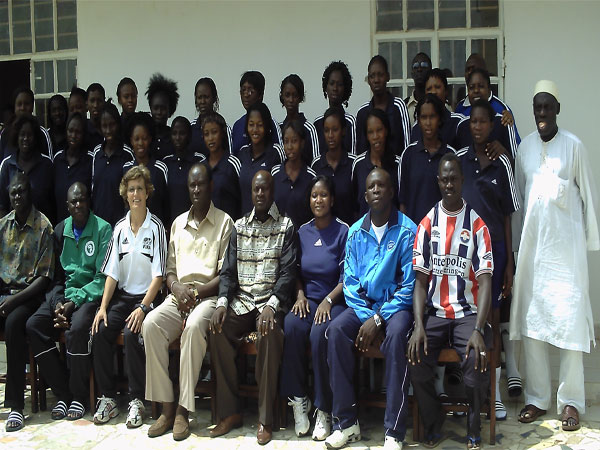 The closing ceremony of the first ever FFIA and GFA coaching course on women will be held today at the Gambia Football Association Centre of excellence in Yundum.
The programmed, being directed by Monika Staab from Germany, is being attended by 25 participants drawn from female league clubs all over the country.
 During the opening ceremony of the course, Major General Lang Tombong Tamba, 1st Vice President of The Gambia football Association, stated that women's football has made tremendous strides in recent years. He said after having long since wiped out any misconceptions about football being predominantly a men's sport, football today proudly counts over 30 million female players world wide.
"With the launch of the U-17 Women's world cup in 2008 and the FIFA U-20 women's world cup now complementing the world women's Olympic Football tournament and FIFA women's World Cup on the new women's coordinated international match calendar, the competitive allure and technical quality of the women's game is indisputably higher than ever," he explained.
"FIFA, over the past ten years, has shown commitment and passion towards development of football around the world by organising training and educational programmes. This one week course for Gambian female coaches is a clear example of Mr. Joseph S. Blatter's commitment to the development of football in The Gambia," he pointed out.
Major Tamba said female football in The Gambia continues to go from strength to strength and commended FIFA for making the first ever coaching training for female coaches possible.
Monika Staab, a high profile FIFA Technical Expert Consultant for female football, who arrived in Banjul to instruct the one-week programme, reiterated FIFA President Stepp Blatter's belief that the future of football is feminine.
She said more commitment should be shown by national association towards female football as FIFA has taken the bold step of raising the standard of The Gambia through the organisation of educational and sensitisation forums.
Mass Axi Gye, Secretary of State for Youths and Sports in his remarks said in the past, the number of female coaches was very limited but the trend has changed recently.
"Coaches are very important and we should bestow on them the qualities of a good coach," he advised.
He said that the Department of State for Youths and Sports, together with GFA, will ensure that the coaches undergoing the programme will be given maximum support

 
Read Other Articles In Article (Archive)