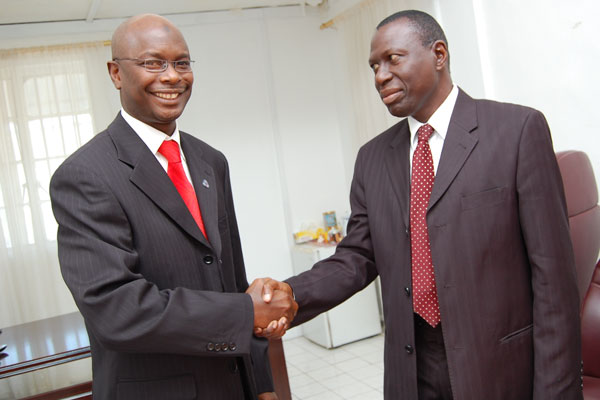 In what could be seen as a move geared towards providing more additional capital, and bringing technological and human resource management, FinBank, one of the leading banks in
Nigeria
, has purchased 70% of the shares of Arab Gambian Islamic Bank.
Consequently, FinBank now has a controlling interest in Arab Gambian Islamic Bank but will be purely run on Islamic principles.
Under the new management, Mr. Mamour Jagne, who was until recently the managing director, will now hand over to Mr. Zakari Abubakar as managing director.
Speaking at the official handover ceremony held at the AGIB head office in Banjul yesterday, Mr. Mamour Jagne, outgoing managing director of the bank said FinBank is interested in AGIB primarily because of its sharia-based operations.
According to Mr. Jagne, after twelve years of operation, the shareholders of AGIB consider it appropriate to link up with a strategic partner who would provide additional capital, and bring in technological and human resource improvements in the bank.
"AGIB is lucky to have FinBank as its strategic partner. FinBank is a Nigerian bank, and according to Africa Business Magazine reporting on banks in Africa in the year 2007, stated that FinBank is the 30thstrongest bank in the whole of Africa", he said, explaining that the Islamic character of AGIB will not change.
For his part, Mr. Zakari Abubakar, the new managing director of the bank said FinBank has come as brothers to invest in an institution, which to, all intents and purposes, is a pride to all Gambians and other Africans.
"As a result, FinBank has come to add to the success of AGIB through the co-operation of our customers and indeed all Gambians. Pursuant to that, we intend to improve on the technology platform of the bank using our experience as the most technology driven bank in Nigeria," Mr. Abubakar added.
For the new AGIB boss, consistent with the bank's customer-centric and technology banking principles, the bank will bring Islaimc banking closer to all Gambians through the medium of cutting edge technology, and the establishment of more branches.
"In that regard, our branches in Basse, Brikama and others will soon be fully operational," he said, adding that his priority will be to render efficient services to the general public.
Read Other Articles In Article (Archive)