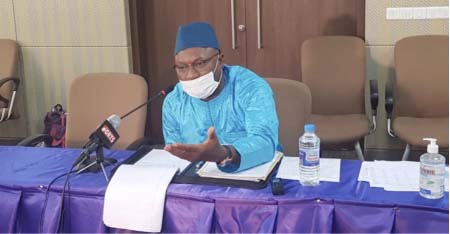 Finance Minister Mamburay Njie has requested for additional time from the National Assembly's Finance and Public Accounts Committee (FPAC) to submit the expenditure breakdown of the 143 million dalasis that he announced last week.

Responding to questions from members of the committee, Mamburay Njie also said the government has received a soft loan of D1 billion from the International Monetary Fund (IMF).
Mamburay Njie told lawmakers the money was released to the Ministry of Health based on their request from the D500 million of the covid-19 special fund.
He said out of the D143 million, D100 million was given to the Health Ministry to purchase an ambulance for the North Bank Region and medical equipment, while the 43 million dalasis was spent on local expenses such as hotel accommodation, feeding for the quarantined which he said were all itemised.
"The D100 million is purposely and purely to supplement the money World Bank used to procure an ambulance and medical equipment. In the process of the procurement they realized that there is a deficit of D100 million."
He added that on top of the grants that was given to them, the D100 million which is equivalent to $2 million was released for them to be able to complete the purchase of the items based on the list that the Ministry of Health gave them.
"The other D43 million are local expenses, hotel accommodations, feeding of the quarantined people. It's all itemised."
The Wuli West lawmaker, however, requested for the Finance minister to document the reimbursements made and share it with the Assembly which he agreed to do by Friday.
"The accountant general has promised to make that available. The only fund that has been released from our end is 143 million dalasis."
Dilating on the funds mobilised for the Health Ministry, Minister Njie said: "Out of the D512 million, I gave a preliminary report on the impact of covid-19 and I said the Health Ministry requested D12 million. At that time, we provided D4 million to them and later D8 million. In addition to that D12 million, we also provided the D500 million."
Mamburay Njie further told the FPAC committee that the D500 million was raised after cutting from 24 budget entries, noting that up to now, they have not hit the ceiling that parliament appropriated for expenditure, saying that this is why they have to make sure that they do the reimbursement.
Read Other Articles In Article (Archive)