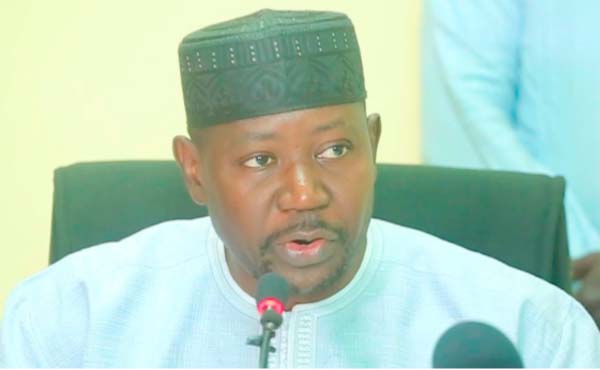 The minister of the interior, Mai Ahmad Fatty, has described the recent protests in Farato as "a realistic portrayal of the challenges Gambia faces as a nation in terms of educating people on what democracy is all about".

"We have now seen our citizens reading and misreading democracy, we have now seen our citizens breaking the law all in the name of democracy," the minister said on Friday in a press briefing held at the police headquarters in Banjul in reaction to the Farato incident.
Last week, a number of young people took to the streets of Farato when a demolition team, including officials of Physical Planning under the Ministry of Works and accompanied by personnel of Police Intervention Unit, came with a bulldozer to demolish compounds and other settlements in Farato towards Bafuloto.
The protest led to clashes between the police and the youths, leading to the burning of the caterpillar used by the demolition team and a privately owned car.
The police subsequently arrested seven youths who were taken to Brikama Magistrates' Court and charged with willful damage of properties, assaulting police officers while on lawful duties, incitement of violence, and riotously destroying machinery.
"I am not going to speculate on what will happen next, what I can say is that the melee is most abhorrent and those who break the law must be dealt with decisively," the Interior Minister said.
Mr Fatty noted that people must be made to understand that such acts are unacceptable, saying one cannot attack law enforcement officials for simply doing their job.
He said the Ministry of Interior and its agencies are prepared and ready to wage war on indiscipline and lawlessness.
"We will not condone acts that seek to truncate the existing sanity, safety, peace and orderliness being enjoyed in the communities and streets," he said.
"The police and other law enforcement agencies will not relent or relax in performing their statutory responsibilities in maintaining law and order. This is a nation of laws and the laws must be enforced for greater peace and security and there will be no apologies for this," he added.
Mr Fatty said the officials of the Department of Physical Planning were acting on a court order to remove illegal structures built on the disputed land.
According to him, the occupants were long and duly served with removal and quit notices but they apparently failed to comply.
Read Other Articles In Article (Archive)